Bank of Holland Offers High-Yield Interest Checking
All you need is $50 to open a checking account with the Bank of Holland and you can enjoy an APY of 2.79% on balances of up to $15,000. Accounts with more than $15,000 will have APYs of 0.75% as long as all qualifications have been met.
APY Qualifications
In order to meet all the qualifications you must: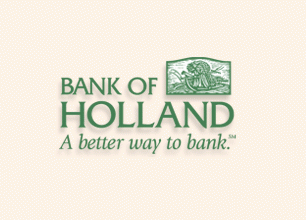 Make at least 12 check card purchases
Set up one direct deposit or ACH auto debit
Access your online banking account
Enroll in eStatements
If you meet these qualifications you can also get ATM refunds of up to $20 per cycle.
Check out more information on Bank of Holland High-Yield checking.
Our Two Cents
It is tricky to sat whether or not accounts with such great APYs are actually good deals, this is because of the "Rates may change after the accounts are opened" clause in the fine print. They best thing to do would be to call up the bank to see if there is any more conclusive information on the length of this bonus APY.
Ask a Question