Banking Systems & Technology's 2010 Elite 8
Yes, this is a story about the Elite 8. No, its not a story about basketball. This particular Elite 8 is a group of honorees that have worked tirelessly to innovate and improve the banking industry in order to improve consumer confidence.
The 2010 Elite 8
It is very difficult to work in the banking industry and maintain an overwhelmingly favorable reputation, but these eight individuals were able to make the Banking Systems & Technology's 2010 list top eight banking professionals. This particular group has been through many trials — the recession and slow recovery has tested not only their patience, but also their leadership skills. They have overseen the rapid development of banking technology as more banks shift business to online platforms and mobile applications.
The 2010 Elite 8: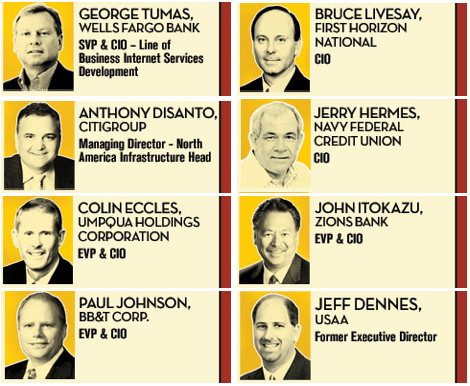 George Tumas, Wells Fargo Bank: Tumas is the SVP and CIO for the Internet services group. Tumas is credited with converging mobile apps with the bank's online presence, making Wells Fargo one of the first banks to offer this type of technology.
Anthony Disanto, CitiGroup: Managing Director – North America Infrastructure head. Disanto has made it his goal to improve efficiency through data analysis at CitiGroup. His leadership has not only improved the way the bank operates, but has also saved money for the institution.
Collin Eccles, Umpqua Bank: Eccles is the Merger Expert for Umpqua who led the bank to acquire three banks in five months. This not only helped increase Umpqua's assets, but also brought more convenience and branch options to its customers.
Paul Johnson, BB&T Corp: Johnson, the EVP & CIO, instated a three-year program to drive a "mind-set shift" within the company. His goal was to create a closer relationship between IT and the rest of the bank to provide more opportunities for growth.
Bruce Livesay, First Horizon: Livesay is the CIO of First Horizon. With his leadership the bank was able to differentiate itself with its banking technology systems and infrastructure.
Jerry Hermes, Navy Federal Credit Union: Although the Navy Federal Credit Union is not a traditional bank, Hermes was still able to use his IT background to provide financial services to military personnel all over the world — an important and difficult task.
John Itokazu, Zions Bank: Itokazu is the EVP & CIO of Zions. He manages a large team with the goal of delivering on initiatives set up by the bank and its branches. His main focus is collaboration and team work to provide results.
Jeff Dennes, USAA: Dennes' passion for technology made him a great Executive Director and he has now left for another position. Denness worked stringently to develop the bank's iPad app, set to launch later in the year.
Ask a Question