SunTrust Emphasizes Small Business Banking
SunTrust Bank already might be the favorite bank of small businesses, but that's not stopping the institution from trying even harder to improve its small-business banking operations.
SunTrust is rolling out its "Business Class Banking" program in an effort to corner the small-business banking market.
The push could be meant as an answer to the efforts of other banks to get a leg up in the small-business vertical. Bank of America® recently announced plans to hire 1,000 small business specialists in the Washington, D.C., area to help spur small business lending and other operations. Wachovia is also reportedly plotting a small-business-centric move.
Small-business banking is a specialty of SunTrust, which is the sixth-largest originator of small business loans in the Washington, D.C., area, according to The Washington Post. One-third of the bank's commercial business in the Washington metro area is done with small businesses. SunTrust increased its small business loans in the D.C. region by more than 50% from 2008 to 2009.
SunTrust's promotional approach is rather aggressive, asking potential customers how their current banks perform and telling them how SunTrust could improve on that service. The campaign also features testimonials from professionals.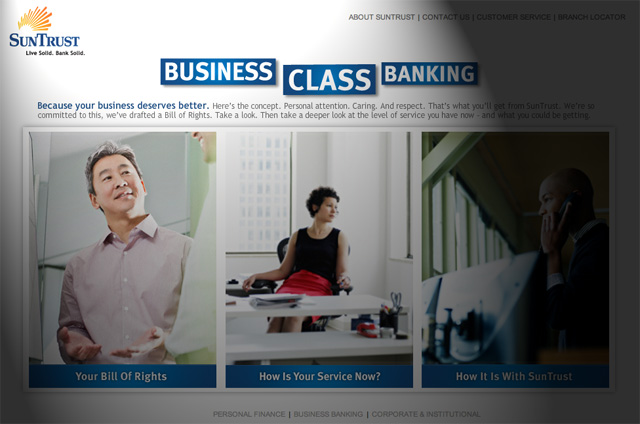 Top Small Biz Bank
Small business owners said in a JD Power and Associates Survey that SunTrust was their favorite bank with which to do business. The customers rated SunTrust tops in product offerings, activities and problem resolution. SunTrust offers a wide variety of products for corporate banking customers, including checking, loans, leasing, credit cards, credit lines, investing and retirement. The bank offers online, in-person and over-the-phone assistance to its business customers.
SunTrust is an Atlanta, Ga.-based bank that operates about 1,800 branches in states such as Georgia, Tennessee, North Carolina, Maryland and Florida. The bank carries about $175 billion in assets.
Ask a Question