Kardashian MasterCard Targets Teen Market
Fish and dairy, running and scissors, Kim Kardashian and MasterCard: Three examples of things that should not mix. Looks like the Kardashians were not satisfied with infiltrating TV programs, magazines, clothing lines etc., because now they are going after the financial industry.
Kardashians Partner with MasterCard
The Kardashian Kard, made available today, is a prepaid debit card targeted at teens that allows parents to give money to their teens while tracking their kids' spending habits using mobile technology. Mobile Resources Card announced its plans to partner with the Kardashian sisters and MasterCard to bring an "innovative financial product" to the public.
In an interview with Australian show Project TV, Kim Kardashian said, "Not spending money would be hard." She later went on to say, "I could cope with being celibate," rather than not spending money. This isn't the first time fame and finances have mixed, which brings up the question of whether celebrities are appropriate financial role models. After Kim spent $100,000 on a few handbags in Paris, our vote is: no.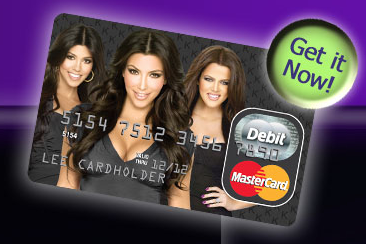 Should You Sign Up For the Kardashian Kard?
As if the idea of having a celebrity with no financial boundaries give money management advice doesn't already seem like a bad idea, the Kardashian Kard also comes with unnecessarily high fees. The Kardashians are not the first to release a prepaid debit card directed at teen spending, Visa launched a similar card in 2001. The Visa Buxx card gives parents the ability to monitor their children's spending habits while allowing for some independence. A big difference between the Kardiashian Prepaid MasterCard and the Visa Buxx card are the fees associated with each.
| Feature | Visa Buxx Fee | Kardashian Kard Fee |
| --- | --- | --- |
| Monthly Fee | $0-$5 | $7.95 |
| Card Purchase | $10-$15 | $9.95 |
| Reload Fee | $0-$2.50 | 2.5% surcharge of the transfer amount plus $1 transaction fee |
| Card Replacement | $10 | $9.95 |
| 12 Month Payment Option | $15-$75 | $99.95 |
* Visa Buxx fees vary by bank.
Basically users are paying the Kardashians $100 to get a piece of plastic with their faces on it. The Kardashian Kard is not cost efficient, much like its spokeswomen. If you are looking for a way to teach your teen smart spending MyBankTracker suggests going a different route.
Did we miss a good reality TV star? Or do you think the prepaid card is a bad idea? Let us know in the comments!
Ask a Question