Google Credit Card Comparison Ads Come to US
Google might be the newest and biggest player in the credit card comparison market, but is it the right fit for advertisers and users?
After an eight-month trial run in Britain, Google's credit card comparison engine was released recently to American users. The Ad Comparison tool appears at the top of Google's search results (shaded pink to denote its status as a sponsored link). The tool gives users a way to view a variety of credit cards sorted by APR or several other criteria.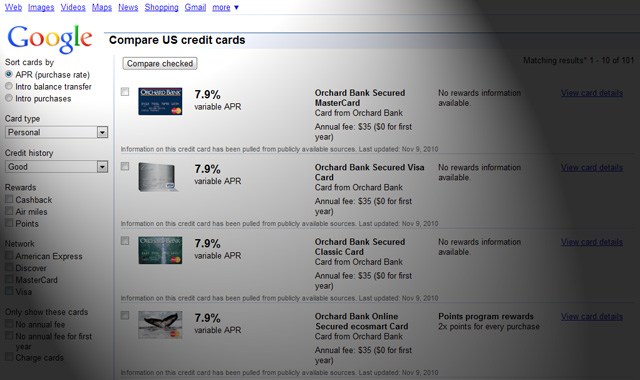 This isn't the first time Google has applied its AdWords platform to financial products. The site's first shot was its mortgage calculator and comparison tool. The mortgage comparison platform, which appears at the top of search results, just like the new credit card calculator, has attracted the attention of some banks but has not done away with other sources of mortgage information and mortgage rates.
Raw Data vs. Well-Rounded Analysis: Users Decide
One potential problem with Google's ad comparison model is the abundance of raw data and lack of analysis and perspective. The comparison tool displays the rates and terms of many credit cards, but that's it. On the other hand, some independent sites offer full-fledged product lists and descriptions along with news and analysis of the credit card industry. Reading news and how-to articles on credit cards can educate the consumer and empower them to make better decisions when choosing a card. The fact that Google has overlooked this could hinder the adoption of its new tool.
With a powerful company such as Google entering the market, it will be interesting to see if companies choose to stick with smaller sites or hop aboard with Google and have their products integrated into the Ad Comparison engine. Google's AdWords Comparison program "provides advertisers with a new sophisticated and flexible cost per lead format," according to Google's AdWords Blog. Expanding the feature to the U.S. is a test for Google, its users, and credit card companies. Credit card issuers will now need to rethink how to split up their advertising money. Card companies were already choosing between traditional advertising and paying credit card comparison sites to feature their products.
Google's credit card comparison tool appears at the very top of the search results (directly underneath the search bar) when you search for almost anything related to credit cards. One potential problem is that the link appears as a "sponsored" result. Users who have trained their brains to skip past these pink-shaded results might not notice the new feature. Plenty of websites devoted to comparing credit cards appear on the first page of Google's search results, meaning searchers could land on a satisfactory non-Google result fairly easily.
How do you feel about Google coming out with its own credit card comparison tool? Tell us in the comments section below.
Ask a Question