Bank of America Makes Facebook Frenemies
Bank of America® is shaping up to be the popular kid of the banking industry. But, just like in high school, the popular kid is not necessarily the most liked. Serendio, a company specializing in multi-channel analytics, just released a study analyzing the social media activity of banks.
The Study
Serendio used 25 social media sites to analyze customer conversations circling around online banking, mobile banking, fees and customer service. Facebook and Twitter have become synonymous with social networking, but to learn more about consumer-bank interactions Serendio, analyzed content from MyBankTracker.com, pissedcustomer.com and Ripoffreport, among others.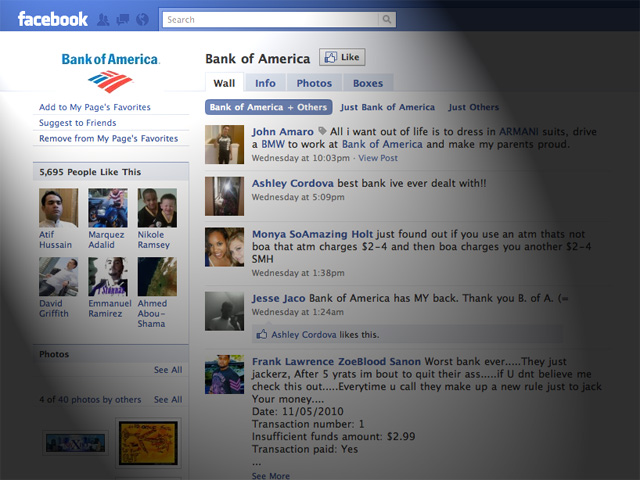 Serendio analyzed 81,345 conversations, according to Bank Systems and Technology, and found that almost 50% of all banking-related social media conversations related to Bank of America®. These findings should not be surprising considering Bank of America® is the largest bank in the U.S. Possibly the most valuable piece of information in the study was the "net perception score" the gave a number to customer satisfaction. Wells Fargo had the highest score of +54 whereas Citi Bank and Bank of America® both had dismal scores in the negative 40s.
Contribute to the discussion by reviewing your bank at MyBankTracker.com. Share your experience, provide helpful insights and help your community make banking decisions.
Importance of Social Media
Online banking is gaining momentum as more banks try to keep up with the technological trends of the 21st century. One important aspect of turning to the online platform is being able to leverage any data found on social networking sites. Monitoring customer comments and complaints can provide invaluable insights for financial institutions and even individual bank branches. Not only can banks make changes based off of information they gather from various social media sites, but they can also use the websites as ways to launch campaigns, target customers and advertise new products.
Do you think Bank of America® does a good job managing its social media presence? Let us know in the comments.
Ask a Question