Thanksgiving Turkey Prices on the Rise
As if hosting Thanksgiving isn't stressful enough, consumers could find an unpleasant surprise when they get to the checkout counter this year. Wholesale turkey prices are expected to hit a record high this thanksgiving with an average of $1.09 per pound, according to Bloomberg.
Supply and Demand
The increase in turkey prices is a clear example of the theory of supply and demand. The government released figures that showed a 23% drop in stockpiles of turkey meat in the past year, and production of turkeys is expected to decline by 1.3%. The reason for the decline in turkey production is the result of the rising price of corn, up by 47% from last year. Corn "makes up about 70 percent of turkey feed," according to Bloomberg, and therefore has drastically increased the cost of raising turkeys. The decrease in supply has prompted wholesalers to raise their prices knowing that retailers will have to buy the same amount regardless to please customers.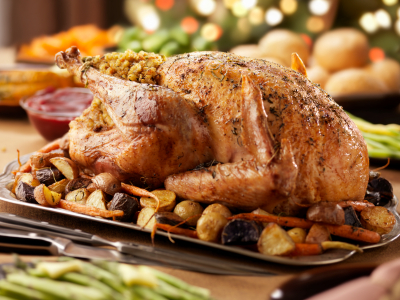 2010 Price Increase
With the decreasing numbers of turkeys available for sale, vendors are taking advantage of this business opportunity by increasing prices. Russell Whitman, VP of Urner Barry, a commodity researcher, told Bloomberg turkey prices have seen a 28% increase from last year. Retail prices are even higher, reaching $1.57 per pound in September, a 7.7% increase. Although consumers may receive some relief via holiday discounts, the prices are still expected to increase 20% from last year. With an average weight of around 18 pounds, buying a turkey could end up being the priciest part of hosting Thanksgiving.
Retailers May Lose Money
Last year Wal-Mart sold its turkeys for the shockingly low price of $0.40 a pound. Although the store has not announced this year's pricing, it is not expected to be as high. The turkey production numbers may be at an all time low, but retailers have made sure to get an early stock of the bird to keep customer loyalty. Tom Elam, president of FarmEcon LLC, an agriculture and food-industry consultant, explained to Bloomberg that a majority of grocers order their turkey supply February and March, so the limited supply will not affect consumers. Retailers that miscalculated or found they needed to buy extra stock would need to pay an even higher price than what they would've originally paid back in February.
Retailers this year have faced the additional difficulty of calculating the perfect price of turkey at which customers are happy and they are still making a profit. The increase in wholesale prices has created the possibility that retailers could going to lose money.
Ask a Question