Online Banking: The Future of Finance
If you want to get in contact with Generation Y, your best bet is through Facebook, texting or Twitter. Banks have invested millions of dollars in new media after recognizing a need to shift traditional banking to technological banking in order to connect with Gen Y— and it's working.
The Filene Research Institute did a study analyzing young adults' evolving financial preferences and found that online banks are slowly rising and taking the place of traditional banks and credit unions. Not surprisingly, younger generations are looking for convenience in their banking experience, and online banks appeal to their needs.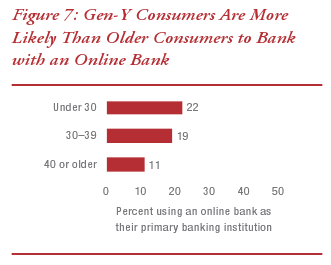 Generational Shifts
The new banking habits clearly reflect the new characteristics of the millennial generation: an increased need to be connected and usually seeking this connection via digital technologies. Figure 7 (to the right) demonstrates the increased popularity of online banking among individuals under 30 and younger with a percentage that is double that of the 40 or older group.
Online banks were not much of a threat to traditional banks until recently as their websites and offers became more enticing and developed. Online banks are more likely to offer enticing bank deals and rates because they don't face the overhead costs of maintaining physical branches.
Mobile Banking Grows
Another big change the banking industry has seen is the development of mobile technology. Keeping up with the need for expedience and constant connection, banks have been working on creating applications that can be used in conjunction with cell phones for more up-to-the-minute banking.
The graph below shows a clear increase of individuals using mobile banking under the age of 40. Mobile banking does away with the task of going to a physical bank branch to conduct transactions. For people who are not comfortable doing all their banking online, having a personal connection with their bank might be what their banking experience a good one. The graph above also demonstrates the increase in online banking use in general. Most consumers have been slow to make the complete jump to using an online bank as their primary banking institution, but they have fully embraced the online services offered by their traditional banks.

Highly Recommended
Data indicates that traditional banks should be on the lookout as online banks grow in popularity. One of the most effective methods of advertising is word of mouth,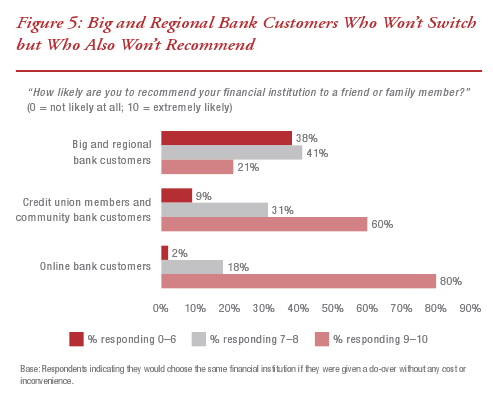 and according to the study, online banks have the highest percentage of respondents "extremely likely" to recommend their financial institution to a friend or family member. Online banks beat out credit unions and community banks by 20%, and big and regional banks by 59%.
Do you think future banking will solely be conducted online? Let us know in the comments.
Ask a Question