Online Saving and Investing Get 'Simple' With GoalMine
If doing anything more than opening a standard bank account seems daunting, a new online service is trying to make investing a bit easier.
GoalMine, created by Gratio Capital, is an online social sharing and investment site that aims to make investing and saving affordable and accessible to those who are new to the world of investing money. GoalMine, which is free at sign-up and requires an initial deposit of $25, advises users on which investment product best fits their saving goals.
"GoalMine is about more than saving – it redefines investing so that mainstream Americans can participate, too. While many people know investing can be a powerful way to build wealth, they don't have the few thousand dollars it typically takes to get started, or they find the choices confusing and overwhelming," said Rimmy Malhotra, co-creator of GoalMine and co-founder and chief investment officer of Gratio Capital. "With GoalMine, all it takes to start investing $25 and a goal you want to reach. We created GoalMine because we believe people who are doing the right things to manage their money deserve better choices for growing their money."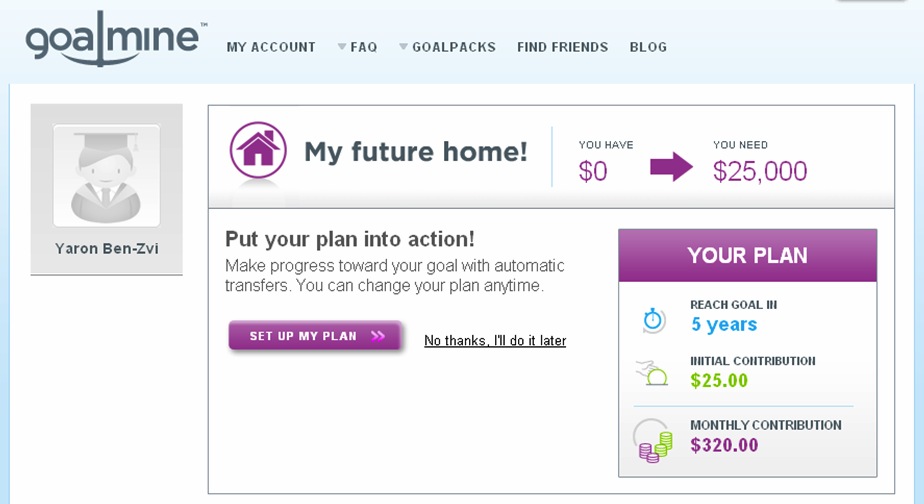 Answer Questions, Create a Plan
GoalMine is meant to help create an investment plan tailored to your specific wants and needs. They way it accomplishes that is by asking a few simple questions at the outset, such as how much you want to save and when you would like to contribute funds to your investment plan.
Based on your answers, GoalMine comes up with the plans that would best fit your preferences. This process is done free of charge. Once you choose a financial product, you can make contributions just like you would any online savings or investment product. One big difference between GoalMine and other investment options is the fact the site's products do not come with high minimum opening balances, making it possible for financial "rookies" to get their start with the product. The minimum opening balance on GoldMine accounts is $25 and withdrawals cost $1 a piece.
"I got started with GoalMine because I wanted the potential to get a higher return on the money I'm putting away, but I didn't have the minimum balance to qualify for the other options I found," Katherine Lucas-Smith, a GoalMine private beta user, said in a release. "I like that GoalMine is so customizable, that's key for me – I can afford to contribute a good amount each month, but if I had a big expense to cover, I could put away less and still contribute."
Once you've started your investment plan, you can publish a personalized goal page with photos, video and other information detailing your specific goal. You can then share the goal page with friends and family via Twitter, Facebook and E-mail to ask for contributions to your savings goal. Family members can purchase GoalPacks to donate money to your cause.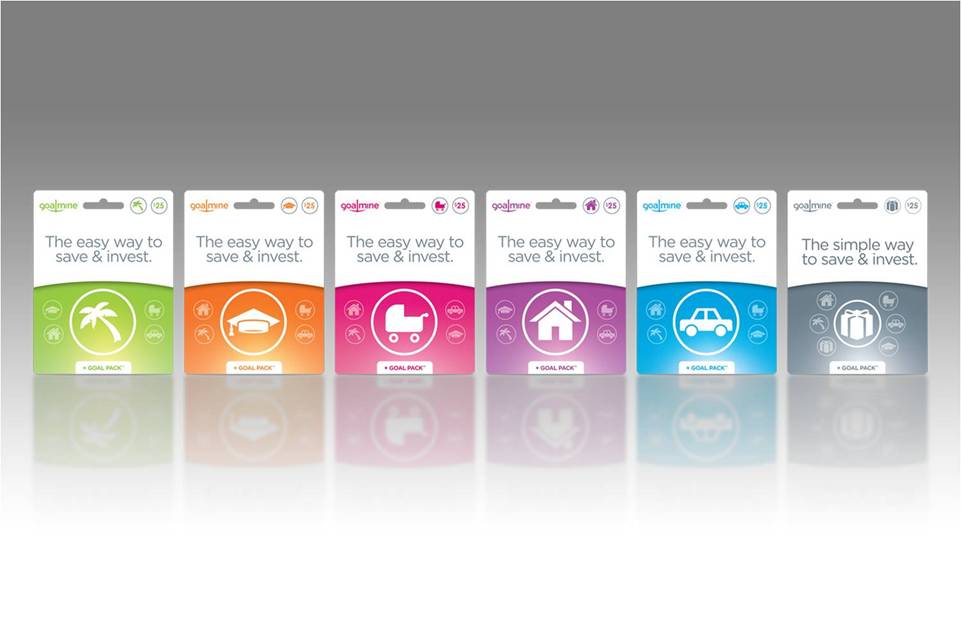 Social Savings
Social savings is a term that gained traction in the financial services industry with the rise of SmartyPig. The site, originally affiliated with WestBank and now backed by BBVA Compass, set out to allow users to generate and save toward goals with the help of contributions from friends or family. The site also gained popularity on the basis of its very competitive interest rates, which hovered at 2%-plus through the summer before dropping to a still-solid 1.75% in September.
"GoalMine is the first investing and savings product to make the experience simple, social and goal-based: simple because you're more likely to do it; social because you're more likely to stick to your goals and reach them faster; and goal-based because the reasons most people will invest won't center around basis points but around the people and dreams that matter to them most," Malhotra said. "GoalMine and SmartyPig are part of a larger trend we're seeing by responsible financial innovators to simplify financial products, incorporate individual financial goals and social features. But GoalMine is the only player today that does it with investing."
Is GoalMine Safe?
Account security and name-brand recognition mean a lot in the banking industry, and for good reason. Consumers often turn to the biggest names in the market because they are recognizable and seen as safe places to keep money. Those big banks are indeed safe places to keep your funds, as long as they are insured by the Federal Deposit Insurance Corporation (FDIC). Small banks, however, are just as safe if they are backed by the FDIC.
"Like any savings or mutual fund products from institutions that have retail outlets, GoalMine savings accounts are FDIC insured, and GoalMine mutual funds are independently audited and custodied at a bank," Malhotra said. "Consumers should always ask where they are putting their money, and we welcome their feedback on how we can do the best job providing that information in the simplest way to find and understand."
Malhotra suggested potential users check out Goalmine's informational pages to learn more about the service.
GoalMine savings accounts are FDIC-insured. GoalMine mutual funds are managed by Gratio Capital, Inc., independently audited and custodied at the Bank of New York/Mellon. Details on GoalMine savings accounts, including the current APY, are available at www.goalmine.com/fdic-insured-savings-account. You should remember that no matter the bank, your deposits are only insured up to $250,000 per account, so make sure to diversify your financial holdings enough to compensate for this rule.
Ask a Question