30-Year Fixed Mortgage Rates Rise
Mortgage rates are at their highest levels since early August, up to an average of 4.39%, according to a statement released by Freddie Mac. This three-month high is an expected result from quantitative easing efforts by the federal government.
Inflation Fears Lead to Rate Spikes
In just one week the 30-year fixed rate mortgage climbed from 4.17% — a record low — to 4.39%. The current fixed-rate mortgage may be at a three month high, but it is still lower than last year's average level of 4.83%. After the quantitative easing announcement the whole nation has been on pins and needles as the market waits to see the outcome. Every change in rates and levels has been considered a possible indicator of how the QE2 plan will affect the market.
The newest figures coming out of Freddie Mac have been attributed to inflation fears causing investors to buy up government mortgage debts in order to profit from projected increases in consumer spending. Lenders have also started to increase the loan rates due to the inflation rumors.
Other Indications of The Increases
Although buzz around the quantitative easing plan has affected the loan rates, analysts also speculate that other factors such as retail sales, and consumer sentiment have played roles. Frank Nothaft, VP and chief economist for Freddie Mac, discussed the optimism coming out of the housing market in a statement to the press.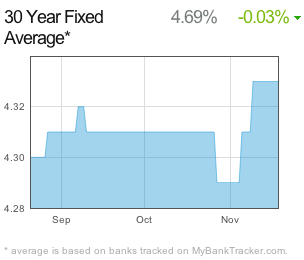 "The housing market is showing some potential gains as well," Nothaft said. "Although new construction on one-family homes dipped 1.1 percent in October, homebuilder confidence rose in November to the strongest level since June, according to the NAHB/Wells Fargo Housing Market Index."
Nothaft also highlighted the increase in consumer confidence: "Moreover, consumer sentiment, as measured by the University of Michigan, ticked up in November to the highest level since June."
Low mortgage rates do not necessarily indicate an increased willingness to offer loans. Many lenders worry consumers will not be able to pay them back. More optimistic consumer sentiment and spending, whether or not it is related to quantitative easing, it is seen as an opportunity for lenders to raise rates.
Ask a Question