Ally Rates Drop, Other Banks Cut Yields
Multiple banks reduced their rates on some CD, money market and savings accounts this week.
The headliner of the rates changes was Ally, which dropped yields on its money market, traditional savings and CD accounts this week.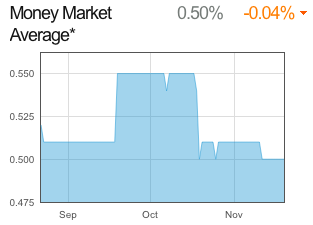 Ally Rates on the Decline
Ally dropped the rates on its Money Market Savings account to 1.10% from 1.19%. The account has gradually lost percentage points from its interest rate since August, with the steepest drop-offs coming over the past few weeks. Ally's Online Savings account, which has mirrored the rate activity of the bank's money market account for the past few months, also fell to 1.10% from 1.19%. Ally's savings rates are still competitive and well above average at 10th place on the MyBankTracker.com savings rates table.
Four of Ally's CD products also took rate hits this week. The online bank cut its 12-month CD by 0.02% to 1.32% and its 18-month product by 0.05% to 1.34%. The bank also reduced its 60-month CD to 2.44% from 2.49% and its 24-month CD to 1.58% from 1.59%.
Other Banks Drop Yields
This week saw a number of banks slice interest rates on savings and CD products.
Charles Schwab Bank cut rates on three of its CDs (while raising rates on one CD). BankDirect shed interest on eight of its CDs, cutting some rates by as much as 0.30%.
Citibank was the biggest bank to drop its savings account rates. Citi cut rates on its Savings Plus Account and its Ultimate Savings Account by 0.10% each.
Ask a Question