Banks Could Share Branches to Save Money
The economic recession has caused banks to reorganize and reevalute some of their most standard practices. Free checking is out and fees are up, in some cases. Now banks could start thinking small in order to save money.
Until recently, physical branches have been one of the cornerstones of the banking industry. Large retail financial institutions maintained hundreds or even thousands of the branches around the nation and smaller banks claimed a branch or two in their home area. It wasn't until the past few years that online banks started gaining steam and grabbing a share of the market. Internet banks are unlikely to unseat brick-and-mortar institutions any time soon, but their popularity and the steep overhead of operating large branches might be pushing big banks to rethink their philosophies.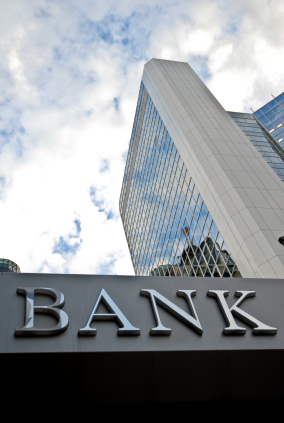 Combined Bank Branches?
A real estate expert told American Banker that it wouldn't be too practical for banks to just build smaller branches on current parcels of land or downsize current bank branches. Instead, developer Darwin Rasmussen of Oregon told the magazine banks could, in the near future, turn to multiple-bank locations as a cost-cutting solution.
Rasmussen said he could see banks agreeing to split a 5,000-square foot property into two or three 1,000-square foot parcels and leasing the rest to retail stores. This measure could save banks quite a bit of money: The average stand-alone bank branch costs about $2 million to build. Combining to erect a multi-bank location would defray those costs two- or three-fold.
Though it is legal for multiple banks to work under one roof, the banks haven't necessarily bought into Rasmussen's plan just yet. He said he believes banks are hesitant to team up with their competitors because they would be stationed so close to one another that customers would be able to price-shop more effectively and get better deals than they might in relatively isolated banking situations.
Banking has already gone online. Sites such as this one broadcast rates from hundreds of banks and provide all the information a consumer would need to sign up for an account, either online or in person. Online banks have already started eating away at big banks' market share with higher rates and more appealing bank deals.
What do you think: Will banks cut costs by turning to consolidated locations? Tell us in the comments section:
Ask a Question