Credit Card Holiday Protection: 4 Ways Your Card Could Help You
In order to survive Black Friday, you need two things: a game plan and chutzpah. We know you have the second — otherwise, you wouldn't be setting your alarm clocks to 3 a.m. just to face the maddening chaos of seeking out the best of the door-busting deals.
Having a good game plan will help you survive the hectic atmosphere and find the best deals around. The increase in shopping activity around this time can be great for everyone involved: retailers, shoppers and even credit card companies. Credit card companies often have many regulations in their fine print that can affect the way you shop as well as your purchasing decisions. Here are a few tips based off of a USA TODAY story on how to optimize your credit card usage to have an all-around successful Black Friday.
1. Research Your Warrantee Agreement
Reading through the fine print of your credit card might be tedious, but the retailer may try to sell you on something your card already offers: a warranty. Many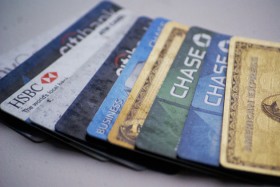 card holders don't know it, but they may have a warranty program that offers extended warranty protection. Visa's Warranty Manager program is a great tool for the constant shopper. It offers extended protection that can double the length of time you have during a free repair period when you use your card to purchase the item.
Before you choose to pay for a potentially expensive warranty call your card company to see the conditions highlighted under your credit card, you may also be able to find this information on your card holder agreement document.
2. Receive Price Reduction Difference
One of the most frustrating things about shopping is seeing that same dress you bought go on sale a few days later at half of the original price. A lot of times stores may not offer the option to credit back your card with the difference, card companies can.
Fifth Third Bank is an example of a bank that has been offering price refunds with its World Debit MasterCard for over a year now. Fifth Third Bank now offers a 60-day window in which you can exchange the purchased product. Some banks offer a 90-day period. There are exceptions to these types programs in terms of sale items and store returns. This may be a good opportunity to call your bank and review your cardmember benefits.
3. Protect Your Purchases
If a product warranty isn't offered you may still be able to get protection if an item breaks or is stolen.
According to the USA TODAY article, "Depending on the situation, your card company might offer to replace an item, pay for its repair, or credit the amount of the purchase back to your account. There's usually a cap on the amount you can be reimbursed for. A police report may be needed to file claims for stolen items. Lost items generally aren't covered. Antiques and collectibles usually aren't covered either."
4. Protect Your Returns
American Express just announced a special Return Protection program that allows customers up to 180 days to return certain items that retailers do not typically take back. The program comes with an annual fee of $49.99 and can cover up to $600 per a purchase item and return shipping costs up to an annual maximum of $100. The program details are offered on the American Express website and are pretty self explanatory, all you need to do is to make sure to send a photocopy of a valid receipt and then send the unused item to American Express.
If you use your credit card responsibly this holiday season you may find that it is actually better to use plastic when making purchases due to the added protection credit cards can offer you.
Have any tips on how to keep your personal information safe during the holiday shopping season? Let us know in the comments section below:
Ask a Question