What does Kim Kardashian's hemline have in common with the lifespan of the Kardashian Kard? Both are inappropriately short.

The Kardashian Kard was available to consumers for exactly 20 days before financial blog WalletPop reported that the Kardashian lawyer sent a letter stating that the famous trio no longer wanted to associate with the pre-paid teen card.
Why the Card Failed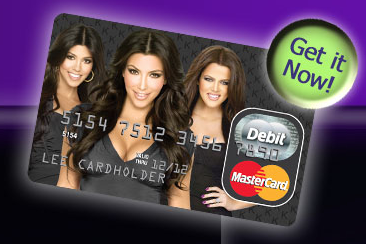 Initially launched to bring an "innovative financial product" to young consumers, it was quickly apparent that the card was more of a scam than a lesson in money management. The exorbitant fees associated with use combined with the Kardashian's poor reputation for smart spending was a recipe for disaster.
Users were expected to pay nearly $100 just in yearly maintenance fees. On top of that reload fees, transaction fees and high card replacement fees made the product completely inefficient in terms of cost.
Spotlight on Financial Literacy
The Kardashian Kard was officially released November 10, 2010 and was only met with harsh criticism from financial experts, consumers and the media. The sisters quickly found themselves in a "PR nightmare" says CreditRatings.com founder, Curtis Arnold. The Kardashian's decision to put out such an uneconomical card not only inspired hilarious headlines and bad press, but also has become a lesson on financial literacy.
According to WalletPop only 250 consumers signed up for the card while it was available showing that the fans are a monetarily-minded than the sisters, their agents and the credit card company give them credit for. Those who purchased the card are eligible to receive a full refund.
Ask a Question