CD Rates Drop as December Begins
CD Rates have had a rocky start to the Holiday season as many showed decreases through the week of November 29 to December 3. Banks are struggling to offer competitive deals as many customers are moving away from using credit cards and other forms of traditional banking.
12 Month CD National Averages
As you can see from the chart on the right national averages have been gradually decreasing since the beginning of fall and have shown a significant drop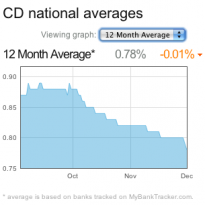 at the beginning of December. If you are looking for a CD to account to invest in, the best thing to do is to shop around and compare rates. Currently some of the most competitive 12 Month CDs on MyBankTracker.com have APYs between 1.30% and 1.41%. The Bank of Internet has the highest offer with an APY of 1.41% and a minimum opening amount of $1,000. If you would like to adjust your deposit amount CD period length to see the best APYs visit the CD rates page on MyBankTracker.com
Overall Weekly Recap
The first day of the week only brought rate drops as three banks reported changes from as little as -.03% up to -.10%. New Dominion Direct had decreases across all terms of their CD programs, consequently awarding the bank with the most appearances on our rate-change list. The other two banks that had single rate decreases were Ally Bank and MetLife bank with respective drops of -.02% and -.10%.
Tuesday showed the most amount of rate changes which were once again mainly drops. Discover Bank reported reported the highest number of rate changes, unfortunately they were all decreases. USAA Bank was the only bank to show some signs of rate increases with the highest being +10%, but this was only after their rates had dropped at the days prior. The biggest drop in CD rates was reported by HSBC with a -0.35% drop on their 12 Month CD and 18 Month CD.
Ask a Question