Salvation Army Collection Kettles Now Accepting Mobile Payments
This holiday season, while rushing to finish your shopping, make sure to be on the look out for the Salvation Army and their digital collection kettles.
No spare change, no problem. In keeping up with the our quickly advancing digital society, the donation collectors now accept credit cards and payment through text.
Pilot Programs show Success
Probably one of the most iconic donation boxes in the world, the Salvation Army began testing their "E-kettle" last year in over 120 cities across the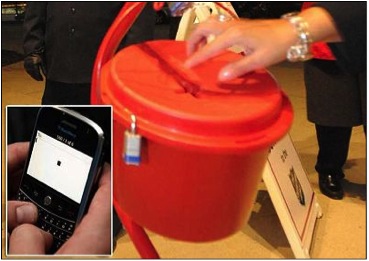 United States. The cashless kettles featured an attached credit card reader that accepted credit and debit card payments. Those who are kind enough to donate are still able to get a write-off as the system can print a receipt for tax season.
The program saw great success, with the convenience factor for consumers definitely leading to increase in donations. In cities such as Dallas and Los Angeles, cash donations jumped 750%, from $2 to $15 when consumers paid digitally.
Convenience Drives the Addition of A New Feature
With such success, the Salvation Army, made the decision to extend their digital offerings by applying mobile payments. This year those looking to donate can do so by texting the "BELL" to 85944 for $5 or "GIVE" for $10. The service will run till December 24 and all mobile donations will be applied to your phone bill.
As the financial world pushes to change consumer habits by shift to using their mobile devices, what better way than to introduce a mobile payment action through charity.
Would you donate more if you were doing so through your phone or credit card? Or when it comes to donations, sticking to cash and coins suit you?
Ask a Question