ING Direct's New York Cafe Investing Tweetup
Last Wednesday, MyBankTracker.com had the pleasure of attending the ING Direct tweetup event in their New York City café. The event was held to reveal ShareBuilder's Gift of Stock kit created to teach young adults how to make meaningful investments.
The host of the event, ShareBuilder, is a subsidiary of ING Direct created to provide simple and affordable tools to build their wealth through investments. Despite the rain there was a packed audience ready to listen to special guest Tom Gardner, the co-founder and CEO of The Motley Fool, a company designed to build the world's greatest investment community.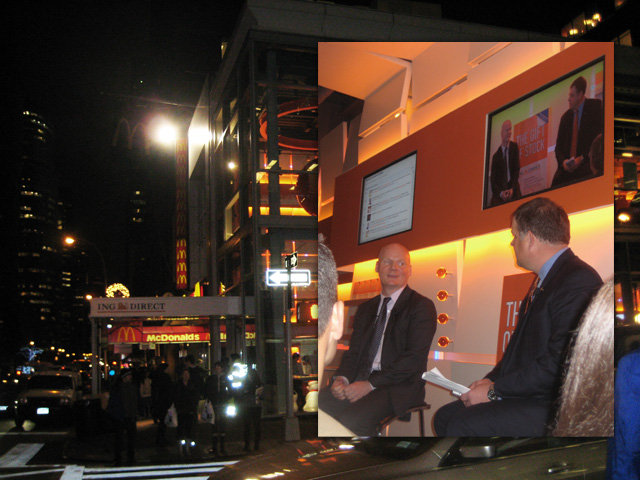 The Gift of Stock
ING Direct conducted a survey last year that found 39 percent of parents felt they were more equipped to discuss the dangers of drugs and alcohol than they were to discuss financial literacy and 27 percent more prepared to talk about sex and dating.
The Gift of Stock prepares parents to have the "money talk" with their kids by providing a Motley Fool video series that explains "How to Buy the Right Stocks for Your Portfolio". The kit also includes a $50 ShareBuilder gift card and 5 free Automatic Investment credits.
ING Directs main goal with ShareBuilder is to make investing easy. Although MyBankTracker.com does not typically cover investing, we felt that Tom Gardner had some important takeaways for better investment results we wanted to share :
Start Early: Gardner pointed out that the educational system neglects investing in their curricula. He believes that the earlier individuals begin investing the more they will get out of those initial investments.
Invest in Businesses: Although investing in a business is considered risky, Gardner believes this will bring you the highest returns. When trying to choose a business to investment he said to evaluate the leadership and how you personally feel about the business.
Invest Time: According to Gardner the average holding period of investments is four months – this is far too short to see any results. It is better to hold on to an investment for at least three years instead of letting the fear of losing money cause you to sell too early on in the game.
Begin with Index Funds: Your first investment should be a passive Index fund, which offers low, tax efficient fees. The process is slower and less likely to cause stress for first-time investors.
Check back on December 15 for MyBankTracker.com's Holiday Sweeps for a chance to win the Gift of Stock kit and other great prizes!
Ask a Question