How to Prepare for the Death of Free Checking Accounts
The days when banking customers enjoyed free checking accounts are fading away as banks experience smaller profits due to the new banking rules enforced in the past year. Because banks are revamping their checking accounts, customers need to be more active to have their monthly fees waived.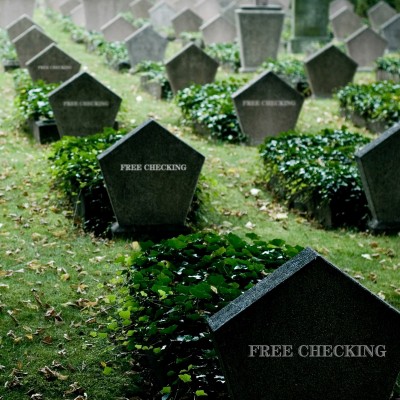 Opt for Direct Deposit
Many employees still choose to receive their wages in the form of paper checks rather than having paychecks directly deposited into a bank account. Again, direct deposits cost fractions of what it would cost to print and process paper checks. All banks monthly account fees because they're ensured funds on a regular basis. As soon as you get paid, your bank is holding your money.
Be weary of whether or not your checking account requires a direct deposit minimum in order to avoid the monthly fee. For example, a qualifying direct deposit for Wells Fargo Value Checking must be in the amount of $250 or more.
Use your Debit Card More Often
One way to fulfill monthly account fee waiver requirements for Chase Checking and Citi Basic Checking accounts is to make five debit card purchases. You must select "credit" for the transaction despite using a debit card because banks receives a portion of the credit processing charges.
Debit cards are often considered less secure compared to credit cards because they offer direct access to your cash as well as fewer purchase protections. Ideal debit card purchases involve small amounts at places such as convenience stores, drug stores, and fast-food restaurants.
Save up to Maintain a Minimum Balance
If you haven't developed the habit of keeping a substantial amount of funds in your checking account, it may soon be a necessity. By maintaining a $1,500 average daily balance, you can avoid a monthly fee for Bank of America's MyAccess Checking or Wells Fargo's Value Checking accounts.
Banking customers who prefer to have a smaller balance in their checking accounts should switch to a different bank that have different fee waiver requirements.
Become Proficient at Online and ATM Banking.
Recently, Bank of America introduced its eBanking checking account, which waives monthly fees if deposits and withdrawals are made electronically or at an ATM and you sign up for paperless statements.
Also, a large portion of the banking customer population switched to online-only banks such as ING Direct and Ally Bank, which offer free checking accounts that don't need monthly fee waivers.
Banks are exhibiting a trend towards electronic banking because it costs banks significantly less to process transactions through online banking and ATMs. The majority of your personal banking needs can be fulfilled without visiting a teller.
Ask a Question