MasterCard Credit Card Numbers Leaked by WikiLeaks Supporters
This is getting personal. Operation PayBack has moved from attacking financial corporations to individuals. An unlucky group of MasterCard holders are in for an unpleasant surprise as hackers have posted individual credit card numbers.
Update: MasterCard calls credit card leak fake, site is back up.
MasterCard has tweeted, that the recent leak of credit card numbers published are fake.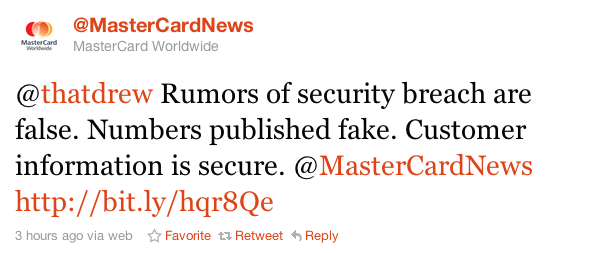 MasterCard Users in Danger of Identity Theft
Operation PayBack originally began as a movement to get back at payment companies that were denying their users the ability to donate to WikiLeaks. Starting out with attacking the MasterCard website they have now circled back to continue terrorizing the card company. At approximately 6:00 p.m. on Wednesday evening the twitter account, Anon_Operation belonging to the hackers acting on behalf of WikiLeaks posted this message: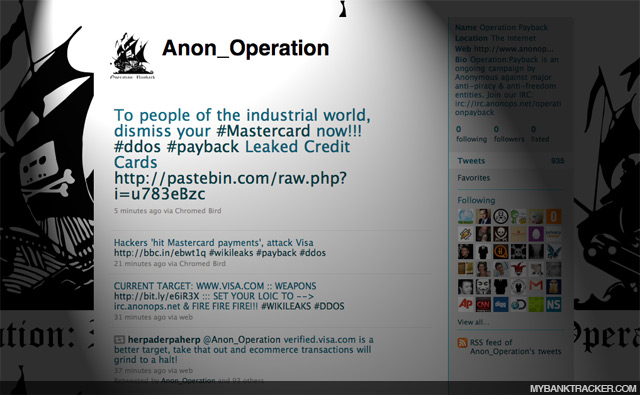 Exposing the credit card numbers and last valid dates of nearly 10,000 user's cards. The tweet was only up for approximately five minutes before it was taken down by twitter. Still, the damage is done. The risk of internet-savvy users to take screenshots of the information and duplicate it through the web is high.
The numbers were shown in a list posted in a link to the tweet saying "To people of the industrial world, dismiss your #Mastercard now!!! #ddos #payback Leaked Credit Cards https://pastebin.com/raw.php?i=u783eBzc". It has yet to be confirmed whether or not these are valid credit card numbers. Here is a screenshot MyBankTracker was able to get before the site was down. The numbers have been blurred to avoid further exposing this sensitive information. MyBankTracker suggests you closely monitor the activity on your card to make sure it has not gotten into the wrong hands.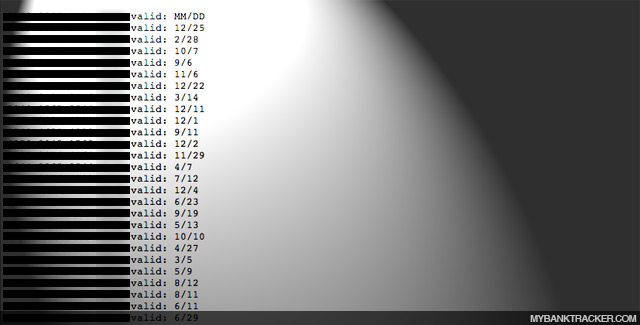 MasterCard is in some pretty hot water due to their decisions to go against WikiLeaks, their site is still down. Call the number on the back of your card to speak with a customer representative. Visa was the second card company whose site was taken down, and although the twitter account has been disabled Visa users should still keep an eye out.
MasterCard users leave us your comments below:
Ask a Question