Mastercard.com Down, Hacked By WikiLeaks Supporters
You may have tried to log-in to your MasterCard account online today, only to find the site down. It seems supporters of WikiLeaks have decided to retaliate by performing a DOS Attack and eventually causing mastercard.com to go down.
Earlier this week, MasterCard made the decision to deny WikiLeaks.com supporters the ability to use their card to donate to the site. The big debate is whether or not WikiLeaks is just in their steadfast dedication to unveiling sensitive information such as copies of the State Department diplomatic cables. MasterCard's decision caused the Operation Payback group, 4Chan and other supporters to hack mastercard.com and interrupt access to the MasterCard website around 5 a.m. this morning – according to BBC.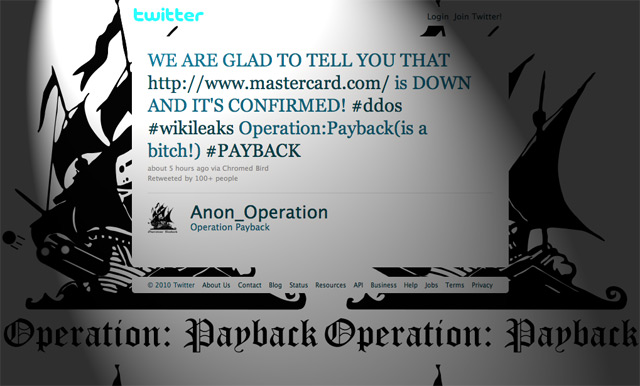 The hack preformed was in the form of a DDOS attack, also known as denial of service. No comments have been released from MasterCard, but sources such as the HuffingtonPost.com highlight that no indications have been made that show this hack would impact day-to-day financial transactions.
There is speculation that other properties such Amazon.com and PayPal are next on the list to be hacked. We want to know your opinion: Do you think it's fair that these sites are being attacked?
Ask a Question