Visa Down: Hackers Strike Again – PayPal is Next
Visa.com is the latest casualty of "Operation Payback" the sting operation motivated by avenging the denial of service to the anti-secrecy website, WikiLeaks. Earlier today, MyBankTracker reported the crash of MasterCard.com as hackers infiltrated their server after the credit card company decided to deny users the ability to use their cards to donate to the WikiLeaks website.
The MasterCard website reportedly went down at 5 a.m. this morning and threats going out to Visa and PayPal were quick to follow.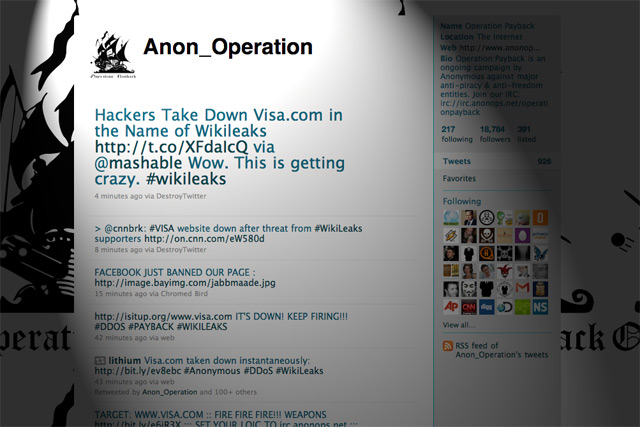 This coordinated attack warned Visa over twitter down to the minute they were going to crash the server. Although Visa saw it coming, there was not much the credit card company could do to prevent 4Chan — the online imageboard website connected to the hackers.
Visa was targeted for the same reasons as MasterCard: Payback. After the credit card company decided to cut payment services for supporters of Wikileaks hackers added Visa to their "hit list". This does not impact card holders directly, but it does limit their communication capabilities with the financial companies. Some speculate that the next website to go down is PayPal, and rumors of Amazon.com being a target are beginning to surface as well. Visa and MasterCard experienced an inconvenience when their websites went down, but Amazon.com would feel a significantly bigger blow to business.
The MasterCard website is still down as well as PostFinance, the Swiss bank that closed the account of WikiLeaks founder Julian Assange. Assange is currently in a Prison in london facing charges of rape, sexual molestation and unlawful coercion.
Ask a Question