Holiday Tipping Guide 2010
Tipping around the holidays can be tricky. How much do you give? Who do you tip? The list continues. MyBankTracker.com has compiled a "Holiday Tipping Guide for 2010" to answer your tipping etiquette questions.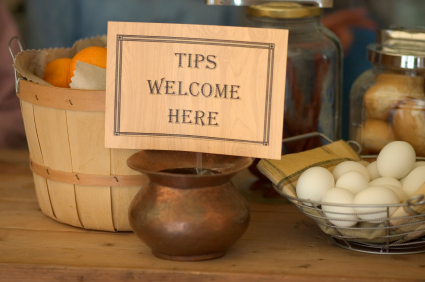 Teachers
$25-$100
Some schools do not allow gift or cash giving to their faculty so make sure to consult a member of the PTA. Typically children with just one teacher will give a gift ranging from $25-$100. If the school doesn't allow cash, a spa package or gift card for a dinner for two are great options. You can also opt to go in on a class gift. It may be hard to organize and collect the money from everyone but the end result can be worth it. Usually there are a couple of parents who are highly involved with the school and could come up with a good gift that would fit the Teachers personality.
Babysitters and Day Care Workers
$30-$80
If you have a weekly or monthly babysitter a good rule of thumb is giving them one to two nights pay as a Holiday bonus. If you would like to personalize the gift, you can buy a gift certificate to his or her favorite store or restaurant. Another popular gift card with teens is an iTunes Gift Card, that way they can download their favorite music and bulk up their playlist.
If your child goes to Day Care with multiple staff members looking after a group of children it may be difficult to figure out who to give to and how much. It's okay to give less to larger staffs and more to smaller ones. A nice addition to the gift can be to have your child make the Holiday cards for the staff members to include your cash or gift cards in.
Mail Carrier
$20-$25
It is not uncommon to give money to the person who brings your mail everyday, especially if you are on 'Hello' basis. Take note: USPS Mail Carriers are technically not allowed to accept cash. A way to get around this rule is by gifting a credit card gift card. There have also been new consumer-favored regulations passed lowering or eliminating certain fees previously associated with gift cards.
Garbage Collector, Landscaping or Newspaper Carrier
$20-$50
Depending on your relationship with the various people who help keep your neighborhood in tip top shape you can adjust the amount you choose to give. With newspaper carriers you may not want to wake up at 4 a.m. to make sure they get their tip. You can always call your provider and have the tip added to your bill. Your garbage collector works hard keeping the streets clean, give him some holiday cheer in the form of cash. It is always nice to include a nice card or a thank you note with your holiday bonuses to show you are appreciative of the hard work of others.
Remember: Everyone has a different budget and giving money during the holidays is a nice gesture not a requirement. People with tighter budgets can still do something nice without spending too much. Baked goods paired with a card are a great way to wish someone a happy holiday. If you do go the baked good route make sure to keep in mind any diet restrictions.
Overall, individuals who you have more daily contact with you can personalize their gifts a bit more, i.e. gift cards, winter wear, tickets to events. Whereas service individuals you may not be as close to will appreciate cash with a card.
Ask a Question