Visa account holders are in for a treat this holiday season. Earlier this morning Visa announced the launch of their new mobile application allowing consumers to take advantage of special merchant offers as well as location-based services.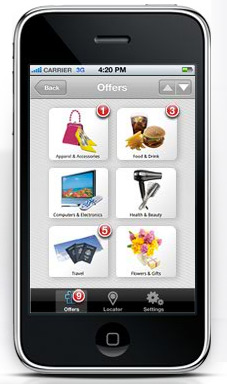 Visa Mobile App
In order to take advantage of this new feature consumers can download the application from the iTunes store. Once it is downloaded Visa card holders will have immediate access to over 50 merchant offers. Here are some of the features of the service:
The app will get to know your spending habits and lifestyle purchases in order to tailor offers to you as an individual. There are multiple merchant categories including jewelry, travel, entertainment and retail goods. This feature not only helps customers find great deals, but it helps merchants increase store traffic and brand loyalty.

The press release included a list of merchants who are participating so far: Planet Hollywood, Papa John's Pizza, 24-Hour Fitness, Jos A Banks, Tourneau, New York & Company, Holiday Inn, Ramada, Crowne Plaza, Pearle Vision, Meineke, Buca di Beppo, Cold Water Creek, and Hard Rock Café.
Of course, Visa is also offering their account holders special offers on the Visa Signature. These offers are in addition to the standard ones associated with the card.
Keep updated with the participating merchants by visiting www.visa.com/mobile.
The launch of this app looks to be a another push by Visa in their continued competition with MasterCard. Earlier this year, MasterCard launched their own app designed to help consumers find MasterCard-friendly ATMs. With the added feature of location-based offers, Visa looks to move the standard ATM finder into the mobile rewards realm as well.
Ask a Question