Capital One Launches iPhone App
Timely for all of Capital One's card holders planning their holiday shopping extravaganzas, Capital One Bank has announced the release of a new iPhone application. Capital One's decision to release the app is part of the growing trend of bringing convenience through mobile banking.
Similar to Online Banking services, the Capital One Mobile Banking App gives consumers many of those same perks. By downloading the application through the iTunes store, you don't even need to change your current online banking login information.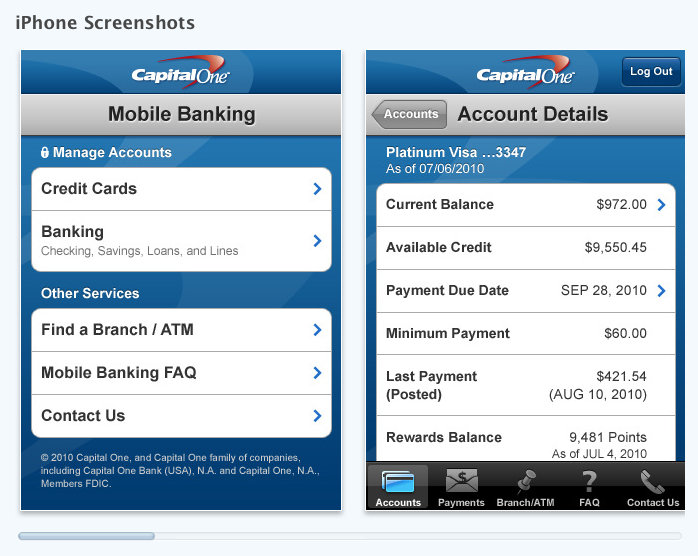 Capital One iPhone Features
Not only can you make payments via your iPhone, but when you use Capital One's app, you can also transfer between existing accounts.
You can view all of your credit card balances through easily-to-navigate screens.
The app has a feature that will make locating an ATM easy for all those constant travels.
The features on this application are both clearly stated and extremely helpful in keeping track of your finances. Among some of the viewable features are your current balance, available credit, payment due dates and reward points. Two popular features the app is missing is person-to-person transfers and mobile check deposits.
Identity theft is certainly a concern of many consumers while banking online, and quite frankly, even distressing when simply going through every day life. Capital One understands that security is of the highest priority, and just like in Online Banking, they use the latest technology to protect consumers personal information.
If you encounter any difficulties, contacting customer service is literary at your finger tips.
Ask a Question