Charles Schwab Releases iPhone & iPad App
Charles Schwab — in an effort to keep up with technological trends — has announced the addition of their Charles Schwab iPhone App. Charles Schwab has now joined the handful of other banks now offering mobile banking services.
Accessibility has come just in time for the holiday season with Charles Schwab's mobile app for the iPhone. Holidays mean something different for everyone, but for a lot of people the holidays mean travel. Whether that traveling is for business or pleasure, having the capability of accessing all of your financial accounts brings a calm sense of convenience to the current hectic of the environment.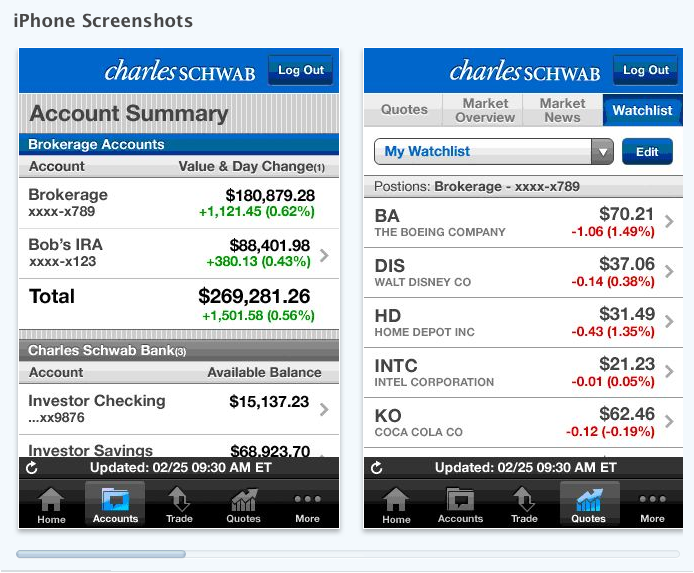 In order to take advantage of this new feature consumers can download the application from the iTunes store. The app does a good job in providing account holders with a summary of brokerage, retirement and bank accounts– all seamlessly displayed from the Account Summary.
Not only can you manage your financial folder wherever you are, but you can also keep track of real-time quotes, charts, watch lists, news, and much more. Also, the app allows you to keep a watchful eye on balances for your brokerage, Schwab Bank, and 401(k) accounts.
Although the app allows you to manage both your banking and brokerage accounts, transferring funds between accounts has not been made available yet, but hopefully the next version of Schwab's app will allow for it.
Charles Schwab iPad Feature
In addition to their new mobile app, Schwab has also recently launched their award-winning On Investing magazine on the iPad. The magazine, which is published quarterly, showcases how ordinary people invest, manage their money and plan accordingly for their retirement. This resourceful publication provides individuals with great money strategies, with a smart literary touch.
To learn more about the new Schwab mobile app, click here. And to find additional information about Schwab's iPad debut, click here.
Ask a Question