TD Bank Acquires Chrysler Financial for $6.3 Billion
Earlier today TD Bank Group announced their second biggest acquisition in the United States with the move to take over Chrysler Financial, a $6.3 billion business deal. Toronto Dominion Bank is the second Canadian bank to make acquisition headlines this week.
TD Bank Group and Cerberus Capital Management gave a joint press release earlier this morning discussing the terms of the agreement. The Bank plans to purchase the comprised net assets of $5.9 billion and around $400 million in goodwill according to the release. The American subsidiary of TD Bank, will acquire the U.S. Chrysler Financial while TD Bank Group will acquire the Canadian Chrysler Financial.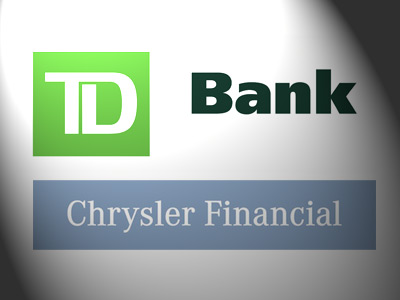 TD Bank Gains Access
With the new acquisition, TD Bank will now be able to access mounds of beneficial information on Chrysler Financial's technology, existing portfolios of retails assets and various company processes. This purchase will launch the bank into the top 5 top bank-owned auto lenders in the United States.
The Group President and CEO of TD Bank demonstrated his excitement in a statement to the public, "Chrysler Financial is a well-run business with the capacity for significantly higher returns over the next several years. This acquisition will allow us to leverage our lending expertise and financial strength to expand our presence in a large North American market with tremendous potential upside." Chrysler Financial currently serves approximately 1 million customers and has around 1,850 employees across all offices.
When The Acquisition Will Take Place
Consumers can expect to see the actual change occur at the close of TD's second quarter in fiscal 2011. The transaction cannot take place until it receives regulatory approval and goes through other closing conditions. Once the transaction is complete, Chrysler Financial will most likely be rebranded by TD around next spring.
Due to the high trade value of the Canadian dollar, we are starting to see Canadian Banks strengthening in force. Earlier this week, Bank Of Montreal also made a large acquisition when they purchased Marshall & Ilsley Corp.
Ask a Question