Obama's Payroll Tax Holiday Brings 2% Cuts
Last week President Obama approved the extension of the Bush Tax Cuts bringing additional relief for many Americans into the New Year. Obama's signature brought an added bonus this holiday season with Payroll Tax Cuts.
The press and blogosphere have given this new tax a number of names, but essentially it is a payroll tax cut that can benefit American's up to $2,136.00.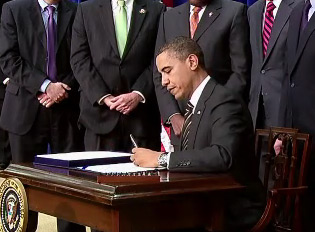 The proposed deal will cut the current payroll tax that is applied towards Social Security (OASDI) by two percent, bringing it from 6.2% to 4.2% for those whose annual income is below $106,800.00. Therefore, if you earn the max annual income you will receive the full benefit of $2,136.
If you are unaware of how the payroll tax system currently works it can be broken down into two categories under the FICA tax.
Taxes based on a max income of $106,800:
FICA Tax (Total of both Social Security and Medicare)– 7.65%
Social Security – 6.2%
Medicare – 1.45%
Those who make over $106,800 will be exempt from the 6.2% Social Security Tax and only expected to pay the 1.45% on Medicare.
70% of Americans in the lower income level make most of their tax payments towards payroll taxes – even more so than federal income taxes. This 2% payroll tax cut is important to many Americans because of the great amount of relief it provides for those who are in the low-income bracket.
Not everyone is in support of these tax cuts; in fact some regulators believe that it is a risky move. Analysts think that it may have a negative impact on Social Security because of the difficulty to restore taxes to their original percentages before the cut.
Are you excited about this new payroll tax or do you think it will hurt us in the long run as the government tries to make the money back later on?
Check out how this new tax affected the January 2011 Jobs Report.
Ask a Question