Post-Christmas Sales Suffer Due to Blizzard
As Americans were coming off their sugar-comas from Christmas dinner, retailers were getting ready to wow them with post-Christmas sales—unfortunately, mother nature had some other plans.
Everyone from politicians to consumers have been keeping a close eye on Christmas Shopping statistics this year as those figures are often used as an economic indicators. One crucial part of these figures, post-christmas sales, have been interrupted by the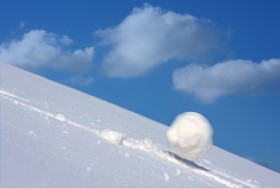 blizzards that have ravished much of the East Coast and even parts of the midwest.
In an interview with Bloomberg, chief industry analyst at NPD Group Inc. Marshal Cohen stated the effects of the storm could decrease retailers Holiday sales by nearly 0.5 percent. This came at an inopportune time due to the added attention to the future state of our economy.
"Holiday 2010 just went from a truly Merry Christmas for retailers to a lost weekend with retailers scrambling to recover lost sales," Cohen told Bloomberg, "The loss of post-Christmas weekend is brutal. This weekend was shortened already. Saturday was Christmas and then Sunday was lost in the East and much of the Midwest to a snowstorm." Merchants have missed out on one of the 6 biggest sale days due to the poor weather.
Online Spending Sees Surges
Already a gaining momentum, online spending is sure to see a jump due to the difficult travel conditions. A SpendingPulse report on projected online spending showed that there was an expected 15.4% spending increase from the 2009 Holiday season. SpendingPulse is a macroeconomic report released by analysts at MasterCard. One of the biggest reported changes of the year was that holiday sales broke $1 billion in sales a total of 6 days this year, this is double in comparison to next year.
Hopefully the lost post-Christmas sales will be made up for in January, but as of now it looks like the biggest concern of Americans is how to get out of their driveway.
Have you braved the blizzard to get that after-Christmas shopping deal? Tell us your story below:
Ask a Question