Internet Bank's Reviews Trump Traditional Banks
After launching the MyBankTracker.com's Review Your Bank Holiday Sweeps, we decided to take a closer look at the reviews posted on our website. According to our figures, it looks like Online Banks are taking the lead in providing the best customer care.
There is no doubt that the emphasis our generation has on technology has translated to the financial world, as more banks invest in better websites and mobile features. But is this emphasis a potential threat to the brick-and-mortar buildings? According to the MyBankTracker.com Bank Reviews page, out of the nearly 1,300 banks we actively track, 4 of the top 5 highest rated banks are online banks.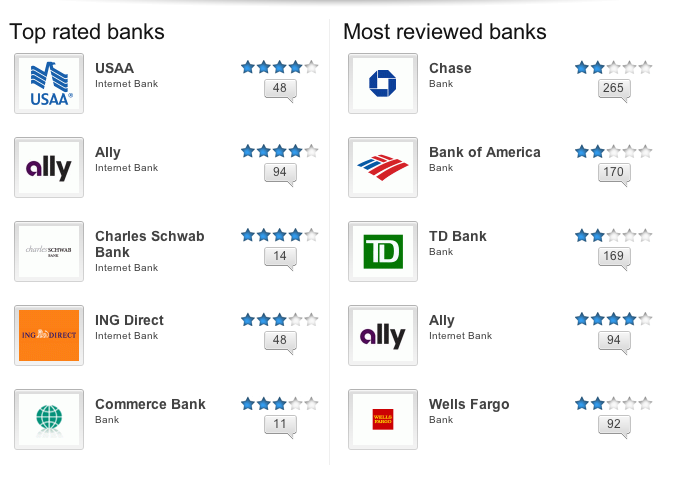 Internet Banks Take The Top
Although Internet Banks are the highest reviewed on our site, they have not been reviewed as frequently as banks such as Chase (265 Reviews), Bank of America® (170 reviews) and TD Bank (169 Reviews). The customers who have chosen to share with an online community seemed please with their experience:
"Every time I call, I speak to a knowledgeable expert that answered all of my questions in great detail. The online interface is easy to understand and the amount of detail USAA has put into the online is amazing. I'm glad I switched to USAA." – Says Dan a USAA user who switched from Bank of America®.
Anna A., an Ally customer says, "I am looking forward to their mobile app that they are working on. Then my banking experience will be pretty close to perfect."
Many of the positive reviews highlighted the convenience of Internet Banks and their lower fees, but not all customers were happy:
Another USAA user, Connie, mentioned "This bank has no branches, you must rely on their website. Sadly, their banking website is FREQUENTLY down. It always seems to happen when we urgently need access to account information."
Although online banks provide the benefit of accessibility, and usability, they are not as reliable as a physical structure. Internet Banks, may still be working out the glitches but many experts expect there to be more to come in the future of finance. Since the payment landscape is changing and moving to social networking platforms, it is almost as if banks will be forced to explore online options.
Check Out: Mobile, Social Networks & eCommerce: The Future of the Payment Landscape
Read: Online Banking: The Future of Finance
Each customer has a different experience with their bank, and the fact that the only internet bank that made it into the Most Reviewed section was Ally shows that internet banking still has a little bit to go, before they have a large enough customer base ready to vocalize their experiences. The truth of the matter is that whether or not internet based banks will beat out physical banks, increasing technological innovations in the banking industry are here to stay.
Ask a Question