Internet Users Average $10 Per Month For Digital Content
A recent study performed by the Pew Internet and American Life Project found two-thirds or 65% of Internet users paid to access or download digital content.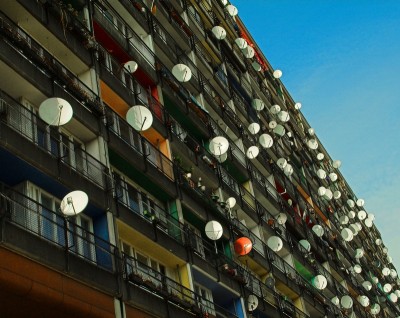 As our purchasing habits move more towards online ecommerce, it's interesting to see how quickly the online audience adapts new platforms for consuming content that interests them. While the Internet was built off a fermium model, the study shows if the content is quality, individuals are comfortable paying for it.
The study went on to break down the categories we most heavily consume and at the top of the list was music, software and apps. It also found users preferred subscription services (23%) versus download an individual file (16%) or accessing streaming content (8%) and that $10 per month was the average spending amount.
The survey results were determined from data collected from 755 Internet users between the 28th of October and the 1st of November 2010. Respondents were asked choose from 15 different types on online content that could be purchased. The main question asked was, "Please tell me if you have every paid to access or to download any of the following types of online content?" – which lead to the final results.
33% of internet users have paid for digital music online
33% have paid for software
21% have paid for apps for their cell phones or tablet computers
19% have paid for digital games
18% have paid for digital newspaper, magazine, or journal articles or reports
16% have paid for videos, movies, or TV shows
15% have paid for ringtones
12% have paid for digital photos
11% have paid for members-only premium content from a website that has other free material on it
10% have paid for e-books
7% have paid for podcasts
5% have paid for tools or materials to use in video or computer games
5% have paid for "cheats or codes" to help them in video games
5% have paid to access particular websites such as online dating sites or services
2% have paid for adult content
In addition to breaking down the percentages of what online users purchase, the study also found that close to 46 percent have purchased only one or two of the types of content covered in the survey – 16 percent purchased six or more types. Another 6 percent of Internet users said they paid for content not included in the list.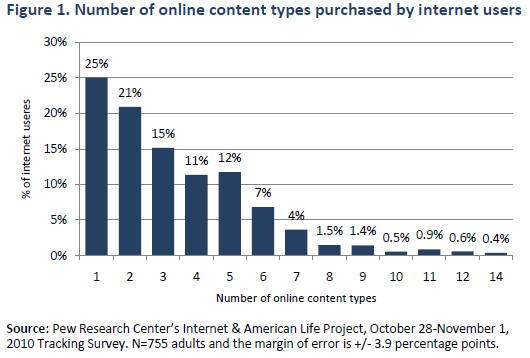 This study was released at a perfect time as consumers begin to evaluate their spending habits for possible 2011 financial goals. Adjusting your online spending habits may help you meet your monthly budget quicker.
Do you have an online subscription? Do you spend more or less then the average $10 per month on digital content?
Ask a Question