Wall Street Bull Receives Colorful Makeover
We're not to sure how we missed this, but it is definitely an awesome story worth sharing. While most New Yorkers were celebrating the holidays, one artist crocheted New York's famous Wall Street Bull in a colorful sweater that lasted all but two hours.
The stunt was performed by NYC-based artist Crocheted Olek, was quoted on CNN in saying that she did it as a gift to NYC after she was unable to make it home for the holidays.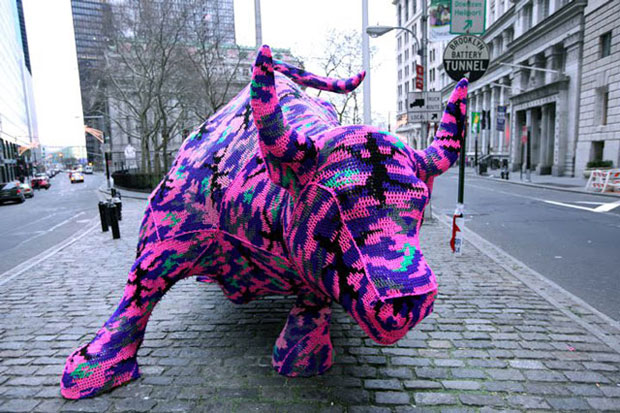 Located in Bowling Green park in Lower Manhattan, the Wall Street Bull, also known as the "Charging Bull" was designed and sculpted by Arturo Di Modica, who placed the bull illegally on Wall Street just before Christmas of 1989. The 7,100 pound bronze statue was Di Modica gift to the American people after the 1987 stock market crash. Much like Olek's work, the police removed the sculpture shortly after being dropped on Wall Street, but due to an ensuing public outcry, New York City decided to reinstall the bull at its current Bowling Green location.
To see more from this artist visit Olek's website.
Ask a Question