Responsibility, financial planning, budgeting — Not the most thrilling terminology, but what these topics lack in excitement, they make up for in importance. Now how do you explain this to your child?
A common question asked by MyBankTracker.com users is at what age should parents open a bank account for their children. While the answer varies, opening sooner rather than later never hurts. ING Direct looks to assist parents by offering a High-Yield Kids Savings Account wrapped in a educational tool to help children around the world become financially independent. The extremely competitive APY doesn't hurt either.
Planet Orange
In today's economy financial literacy is a must in every child's upbringing and with ING DIRECT's Planet Orange teaching your child about responsible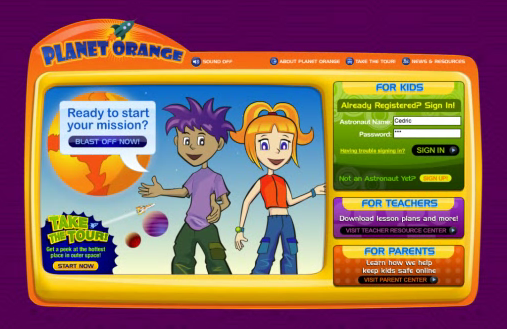 money management just became a piece of cake. With interactive graphics, special games and fun characters your child wont even realize that they are learning important lessons about earning, saving, spending and investing.
Most importantly ING DIRECT promises your child's privacy will be protected. By only collecting limited information from children you can rest assured that your child's information will not be utilized for any other purposes than for the Planet Orange website.
Kids Savings Account
Planet Orange does not only function as an educational tool, but it can be combined with ING's Kids Savings account, or also known as Orange4Kids Savings account to actually execute the lessons learned. The Orange4Kids Savings Account is purposely tailored to fit the minimal banking needs of your child while still providing incentives to save money.
Account Features
Interest Earning: This account will teach your child the value of putting away savings for interest advantages. It offers a 1.10% variable APY as of 04/06/2010
Kid-Friendly Fees: This account carries no minimum balance, no fees and no service charges so your child can focus more on saving and money management as opposed to which account provides the better deal.
Allowance Payment Plan: If your child has a weekly, biweekly or monthly allowance you can set up an automatic transfer from your account to your child's. This plan mimics direct deposit from payrolls and can teach children the importance of budgeting.
24-hour access: Between soccer practices and school periods — the Orange4Kids Savings Account has 24-7 access to accommodate your child's hectic schedule as well as your own.
The future of the payment industry is changing as rapidly as your child's shoe size. With mobile payments and pre-paid cards gaining momentum it will soon be a lot easier to access bank accounts and complete payments. It is important to get an early start on teaching your child about finances in order to establish framework for a future positive relationship with money management.