MyBankTracker.com Introduces Bank Review Responses
MyBankTracker.com is excited to highlight its newest added feature: Verified bank representatives can now publicly respond to reviews left by MyBankTracker.com users.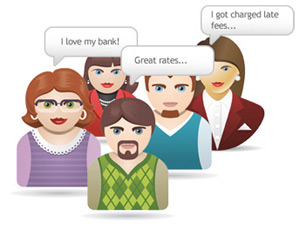 This new ability is part of MyBankTracker.com's continued effort to promote transparency and openness within the banking community. By allowing a visible, two-way conversation between users and their banks the forum will now offer a deeper connection among institutions and customers.
Bank Reviews with Results
The addition of Bank Review Responses is the latest in a continuing series of social enhancements to occur in 2011 by MyBankTracker.com. Earlier this month, detailed bank fees and product fees were launched for individual institutions providing readers with up-to-date information about CD rates, Money Market accounts and other bank products.
"Bank Review Responses are part of our mission to bring a more niche social experience within the financial community, specifically between customers and financial institutions," said Alex Matjanec, co-founder of MyBankTracker.com. "By responding, banks can now build stronger relationships with existing and prospective customers, potentially changing a customers' negative experience into a positive one."
This new feature not only benefits users, but banking institutions as well. By being able to respond to their customers banks can now have a positive communication that will provide them with information on how to make the consumer banking experience the best it can be.
One of the first individuals to utilize this tool was PerkStreet Financial COO, Jason Henrichs,"Transparency is a vital part of a close relationship and far too few banks take advantage of the opportunity to engage customers online. The functionality offered by MyBankTracker.com fills a critical missing piece in this conversation," said Henrichs. "We believe in MyBankTracker.com's vision to bring greater transparency to banking and we're thrilled to be a part of this movement".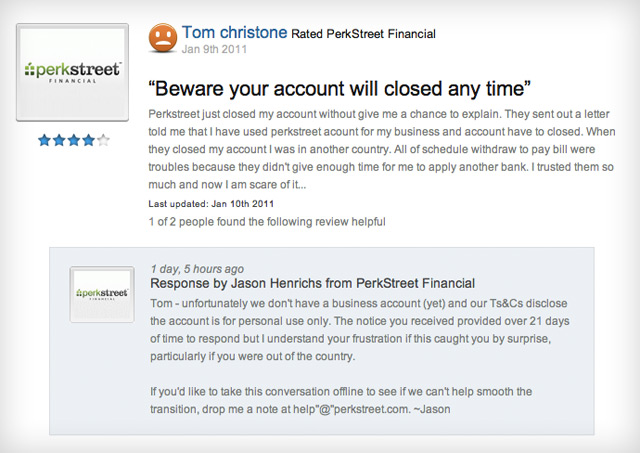 Have something to say about your checking account, savings account or bank in general? Visit the Reviews Page of MyBankTracker.com to have your voice heard. Your review will empower other readers to make the best banking decisions for themselves.
Ask a Question