Recession or not, the U.S. wedding industry is a booming one, pumping billions of dollars into the hands of vendors, retailers and planners every year.
Roughly 2.078 million couples will have tied the knot in 2010 according to a report released by The Wedding Report, Inc., an organization that provides statistics and research for the wedding industry. If even just a quarter of those couples paid the average wedding costs — expected to be at least $23,000 for 2010 according to the report — then the wedding industry pulled in almost $12 billion in revenues last year. Moderate cost gains are expected in 2011.
In light of this, MyBankTracker.com is showing you some great ways to keep your wedding costs down without compromising quality. Doing so could help you put more money towards one of the many invariable expenses sure to arise once your vows are exchanged.
Planning Your Wedding Budget
TheKnot.com offers a great web tool designed to help the newly engaged plan a wedding that conforms to their budget. After registering for a free account, go to its online budgeting tool and plug in how much you can spend on a wedding — it'll do all the work for you.
Let's say you and your significant other have $20,000 to spend on a wedding — slightly less than the 2010 average in the U.S. Here's a breakdown of what you can expect to spend, excluding consulting costs which the website indicated can run between 10-15% of your total costs:

| Expenses | Estimated Costs |
| --- | --- |
| Reception | $9,700 |
| Attire and Beauty | $1,980 |
| Ceremony | $520 |
| | $1,600 |
| Music | $1,600 |
| Photography and Videography | $2,400 |
| Stationary | $600 |
| Wedding Rings | $400 |
| Transportation and Lodging | $600 |
| Gifts | $600 |
Add additional information like you expected number of guests — even the break down of male versus female attendants — and you'll get an idea of how much you'll be spending per person.
Cutting Wedding Costs
Now that you have an idea of what you can spend in each category, you can figure out some areas where you can cut costs.
Is your best friend an excellent chef? Consider hiring them to cater your wedding as a gift for a reduced price.
Think you have more than enough housewares but not enough cash to pay for you honeymoon? Instead of a more traditional registry at a retail store, consider opening a honeymoon fund with Honeyfund.com. The site's sample honeymoon registries include an African Safari getaway or even an Asian cruise. This option is great for couples who can do without George Foreman Grill.
Searching bargain racks for deals is no-fail way to save money on your wedding. Lisa Fu, creative director of Brooklyn-based Pretty Stationery for Beautiful Souls, says visiting the clearance sections of paper shops for discontinued card stock can save couples much-need cash on invitations. "Oftentimes you can find something suitable for printing your own invitations without having to pay the full retail price," says Fu.
The old adage "If you want something done right, do it yourself" is often true and, if applied to your wedding, could save you some much-needed cash. D-I-Y flower arrangements is just one way to shave costs says Michael Geiger of 48LongStems, an online plant and flower wholesaler based in Portland. "By avoiding a retail florist a bride can save a lot of money without giving up quality," said Geiger.
But, if you decide to go the D-I-Y route, make sure to proceed with some caution, and to remember that some things are best left to the pros. Splurging to have a qualified profession assist you in meeting your wedding needs could save you from undue stress in the long-term.
"Brides need to be careful when trying to use do-it-yourself options to reduce their budget" says Kelly Werder, CEO and Editor-in-Chief of WedBiz Media, who says couple stand the risk of either paying more in the long run for or being left with options that are below their expectations. "Brides should avoid trying to create their own flowers or cakes since these items must be created close to the wedding and can add quite a bit of stress."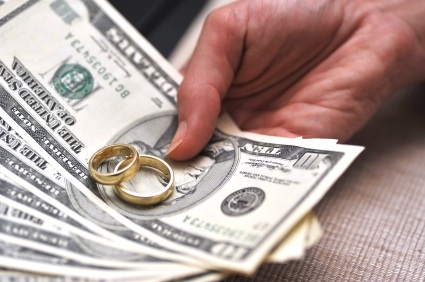 Bigger Isn't Always Better
Whether you have $20,000 or $200,000 to spend on your wedding, reception venue and catering services are two items that will cost you the most. No amount of cost comparing and budgeting will save you more money than simply reducing your guest list.
"Cutting your guest list is the easiest way to cut your budget," says Tracy Leaman, the Washington D.C.-based founder of wedding event planning company Events to a T. Couples don't have to cut any of the items they may want to make their day special, they just may need to cut dad's co-worker from the list in order to get it."
Whether your budget is big or small, your wedding is one of the most important important days of your life and should reflect that. Careful budgeting and spending can help both you and spouse throw an elegant bash without breaking the bank.
Are you planning a wedding? Let the community know your tips, tricks or even concerns in the comments below:
Ask a Question