Armand de Brignac Unveils the World's Largest Champagne Bottle
Have a $100 grand lying under your mattress waiting to be spent on that special item. Well Armand de Brignac has unveiled the world's largest luxury bottle that clocks in at 100 pounds.
This massive 30-liter bottle is called the 'Midas', after King Midas, is equivalent to a 40 regular-sized 750ml bottles. With gold plated design, the bottle represents King Midas ability to turn whatever he touched to gold.
Not surprisingly, this ultra luxury bottle found its first owner at a Las Vegas nightclub XS. The anonymous high-roller purchased it during a UFC after-party for mixed martial arts UFC heavyweight champion Cain Velasquez. Those attending the party highlighted that two strongmen were needed to carry the bottle to the table.
7 Things to do With Champagne
While you may think a with a bottle like this the best way to enjoy it is straight up, and though you would be 100% correct, here are a few options from myrecipes.com on how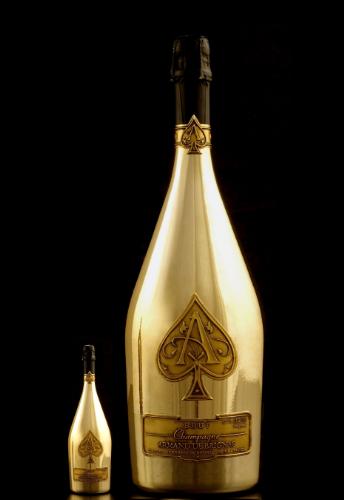 you could spruce your meals.
1. Scallops in Champagne Sauce: Less than 10 minutes to make, this bad boy includes sautéed scallops, topped with an easy pan sauce made with Champagne, shiitake mushrooms, dried tarragon, Dijon mustard, and shallots. Oh, and they recommend a light sour cream whisked in at the last minute to finish the sauce.
2. Crimson-Spiced Champagne Cocktail: All you need is brandy, cranberry juice, and spices. Steep together to make a rich syrup, mix with Champagne and enjoy.
3. Sea Bass in Champagne Sauce: When you're near the bottom of the bottle, this easy entrée calls for poaching sea bass, in a bath of Champagne laced with green onions.
4. Risotto With Champagne and Radicchio: Who doesn't love risotto? Now add Champagne and you have something special. This easy risotto pairs sweet Champagne with pungent radicchio and salty Parmesan to make the ultimate comfort food.
5. White Peaches and Raspberries in Champagne Syrup: Lemon juice, zest, sugar, cloves, and a cinnamon stick cook with Champagne to make a sweet and spicy sauce that can be drizzled over any kind of fresh fruit combination.
6. Ham with Champagne and Vanilla Glaze: Another sauce, that's right. Are you getting the hint? All you need is Champagne, apple jelly, and a two-inch piece of vanilla bean. It's hard to believe something so easy makes ham taste out-of-this-world good.
7. Mimosa Granita: I guess you could mix your Champagne with orange juice to make a boring mimosa cocktail, but remember this is Midas. So what about this; freeze it with fresh squeezed orange juice, sugar, and a splash of lime to make a refreshing dessert designed fit King Midas himself.
Worth Holding On To
The metallic bottle was inspired by famed fashion designer Andre Courreges and crafted entirely by hand; each bears two Ace of Spades insignias and four hand-applied pewter labels. It is housed in a black wooden case, lined in velvet and fitted with an engraved nameplate and embossed with the Champagne's royal crest.
About Armand de Brignac
Since 1763, the Cattier family has owned and cultivated vineyards in the prestigious Montagne de Reims terroir of the French Champagne region. Jean-Jacques Cattier and his son, Alexandre Cattier, along with only eight others, produce the Champagne. Each cuvee includes a unique liqueur de dosage aged up to five years in oak casks, ensuring that every bottle of Armand de Brignac is of superior and unmatched quality.
For more information on Armand ds Brignac visit: www.armanddebrignac.com
Ask a Question