ESB Bank: Special CD and IRA CD Rates – Pennsylvania
ESB Bank is offering special CD rates of its regular and IRA CDs. These rates are limited to customers within proximity of the local ESB Bank branches in Pittsburgh, Pennsylvania.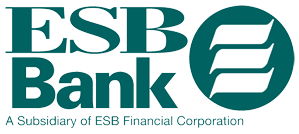 ESB Bank is headquartered in Pennsylvania with 24 branch locations in the Allegheny, Beaver, Butler and Lawrence counties of Pittsburgh. Currently, ESB Bank is promoting special CDs and IRA CDs at attractive interest rates.
While customers can manage their ESB Bank accounts online, customers must visit a local branch to open an account.
ESB Bank Special CD Rates
| CD Specials | Minimum to earn APY | APY (as of 1/18/11) |
| --- | --- | --- |
| 60-Day CD | $1,000 | 0.50% |
| 9-Month CD | $1,000 | 1.10% |
| 30-Month CD | $500 | 2.02% |
| 60-Day IRA CD | $1,000 | 0.50% |
| 9-Month IRA CD | $1,000 | 1.10% |
| 30-Month IRA CD | $500 | 2.02% |
High Rates With Low Minimums
Stellar CD rates often require that customers deposit a large amount of money in order to obtain the APY. ESB Bank's CD rates are an exception as its 30-Month CD requiresonly $500 to earn 2.02% APY – beating the 30-month CD rates tracked at MyBankTracker.com.
Higher interest rates and lower restrictions are often the appealing traits of banking with a smaller, local bank. The CD rates from the larger Discover Bank include 9-Month and 30-Month traditional CDs and IRA CDs at 1.05% APY and 1.60% APY, respectively, which require a greater minimum opening deposit of $2,500.
The 60-Day CD isn't worth investing in as the APYs on savings accounts from banks such as Ally Bank and ING Direct are much more superior. While the 9-Month CD sits among the some of the highest rates offered for 9-month terms, customers should consider opting for a high-yield savings account since the earnings would be very similar – liquidity may be of greater concern.
For more CD rates available, visit our CD rates and IRA CD rates pages.
Ask a Question