It may be hard to believe that your little one is old enough to have a savings account, but the truth of the matter is the younger the better. The economic climate our children are growing up in is vastly different from ours and this is why it is crucial to prepare your child for the future of financial planning as early as possible.
Money management education has been put in the spotlight as financial literacy curricula continue to gain popularity. Even before your child gets to the age where he or she can independently access these financial literacy centers, the education should start at home.
"I recommend beginning early so they understand about saving and spending utilizing their allowance or even money they receive as a gift during birthdays or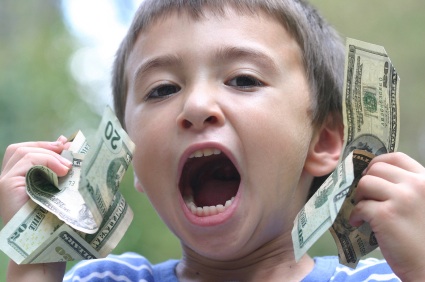 holidays," says Dr. Taffy Wagner, Certified Educator in Personal Finances and Money and Marriage Advocate. "Starting children early gives them more opportunity to formulate the mindset and significance of the difference between saving and spending and consequences of that by utilizing practical daily lessons."
A great tool to utilize to get your child on track to better money management is the savings account. Even though the concept of a savings account is pretty simple, your child has different needs when it comes to saving money. Here are a few tips on what to look for when choosing a savings account for your child:
1. Low Fees
This is probably one of the most crucial factors when searching for an account for your child. You want to really focus on having an account with lower fees because your child will mainly be using his or her savings account as a storage place. Because your child is not on salary and therefore does not have a steady income, a savings account with higher fees and more features is out of the question. Here are a few fees investigate:
Opening Fee
Monthly Maintenance Fee
Minimum Balance Required (to Avoid Fee)
If you want your child to gain some independence find an account that has a low opening balance (they can range from $0 -5,000) so your child can feel as if they are in charge of their account from start to finish. According the banks followed by our website, the national average to open an account is $480, while the monthly fee is an average of $3. Depending on whether or not you want your child to have a debit card, you should also look into the non-ATM fee.
2. High Interest Rates
Everyone know that the higher the APY the better the deal. Unfortunately, banks are still stabilizing from the recession and APYs are currently nothing to write home about. This does not mean that you should discard this feature. The APY is a great way to teach your child how to capitalize off of their savings at a young age. Who knows, by the time they're your age the average APY may be back to 5-6%. Use this feature as an opportunity to show your children the value of shopping around. They can learn what a big difference in earning is made when they take the time to compare savings account rates.
3. Kid-Friendly
As we mentioned before, children-focused financial literacy programs are gaining momentum in America, and banks are taking note. Many banks have begun to launch interactive programs including games and characters to teach simple budgeting concepts. By adding a fun element to finance management your children are more likely to develop a positive relationship with their money.
Currently financial education websites like Planet Orange from ING Direct provide fun features and tools for families looking to educate their children on finances. ING Direct also has a Kids Savings Account which is interest earning and also comes with an allowance payment plan which allows parents to set up automatic transfers into their child's account.
We predict that in no time, savings accounts designed specifically for children will be popping up everywhere. The opportunity to pair a financial education site, along with a savings account specifically designed for children will provide parents with the ability to cover all the bases when it comes to preparing their child for the future.