Banks on Wheels: An Explanation
Instead of driving to your local bank branch, what if it drove to you? Currently, throughout the United States, China, Africa and the Middle East, mobile banking vehicles provide a cost-effective alternative delivery system for banks that need to provide services to a specific location fast.

These large trucks are very secure and generally equipped with satellites and Global Positioning Systems depending on their needs. A slew of security features come standard and other, more specialized additions are available as well. Depending on the bank, the chassis can come outfitted with different amenities. One recently delivered Mobile Branch had two exterior access, bulletproof glass teller windows with a teller cash drawer pedestal, a galley, an interior guest waiting area, one customer service representative position, two exterior access ATMs, an awning, a 60″ exterior LCD monitor, a PA system, and even a roof tie down for a blimp.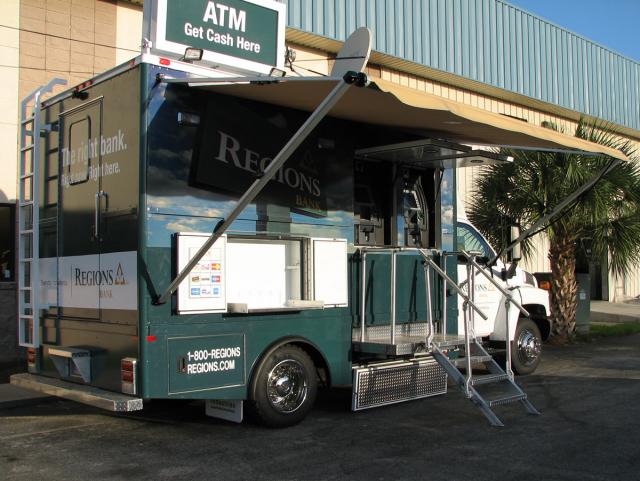 One of these trucks can drive to a college campus or an apartment complex to hold a new account drive, or utilize the ATM on board at crowded events. Either way, a mobile banking vehicle costs around 75% less than an actual building and the same staff can service multiple locations on a single day.
Benefits of a Mobile Bank Branch and ATM
There are a myriad of reasons why a bank would need to employ a mobile branch, and according to MBF Industries, which created around 175 Mobile Banking vehicles since 1992, approximately 80% of the largest U.S. banks have and operate at least one Mobile Banking vehicle. Some large banks that own a Mobile Branch are Bank of America®, Wells Fargo and Fifth Third Bank. The Mobile Branches can fulfill a number of different purposes:
1. Quick start a branch while building.
2. Temporary branch during remodeling or construction.
3. Test market potential locations before buying land and building.
4. Provide banking services at high traffic events like concerts, sporting events or fairs.
5. Provide services to remote markets that do not justify the approximately $1 million building cost.
6. Provide immediate disaster recovery capabilities.
While it is rare to see a Mobile Branch in a large city, or in a place where other branches exist nearby, these Mobile Branches seem to be a cheaper and more convenient solution to many issues that can arise for banks anywhere.
Ask a Question