ATM Hunter Android App Launched by MasterCard
It's happened to everyone: You go to pay for a meal you just ate with your friends and you see the words "CASH ONLY" printed on the receipt. With MasterCard's ATM Hunter App you will not only find an ATM, but you can also avoid those pesky transaction fees by locating the ATM specific to your bank.
A multitude of unplanned events can draw consumers to ATMs, but unfortunately they are not always easy to find. MasterCard utilized GPS technology to provide a free app to better prepare customers for when they need some fast cash.
ATM Hunter Features
Avoiding ATM fees takes a little bit of strategy, but with the ATM Hunter app this strategy becomes significantly easier. MasterCard is also continuously adding updates to their app, most recently, customers can locate retailers that utilize PayPass—a contactless way to pay. The other features include:
Find ATMs based on; your location, any address or airport in the world.
Find out whether the ATM is a bank location, store location or which bank owns it.
Tells you the distance between your current location and ATM or PayPass
Well also let you know whether an ATM is drive through, 24-hr. service, wheelchair accessable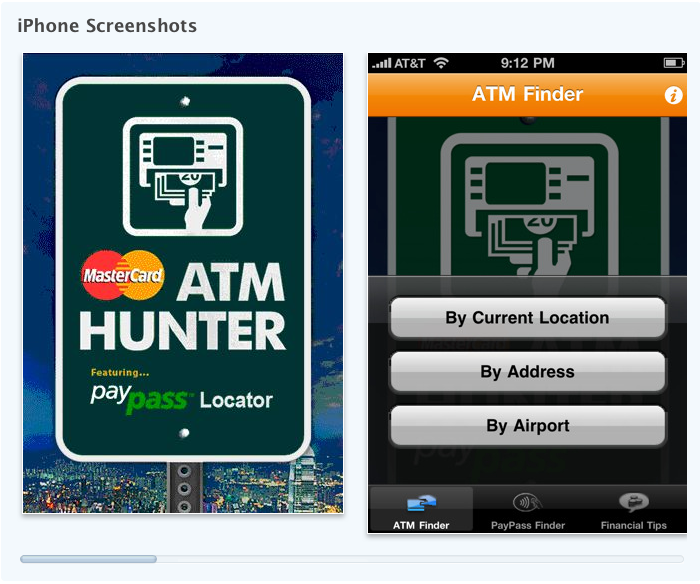 Now Available on Android
The app was originally released in 2009 for and since has operated on the iPhone, iPod touch, iPad and Blackberry, until recently. Android, a smartphone run by Google Inc.'s operating system, is the latest platform added to the previous list of devices compatible with the ATM hunter app. This tool can save consumers unnecessary transaction fees when it comes to using an ATM.
In an initial 2009 press release, Senior Vice President of Global and Digital Marketing, MasterCard Worldwide, Cheryl Guerin stated, "MasterCard is focused on delivering innovative applications and services that help make life easier not only for MasterCard cardholders, but for all consumers."
To check out a similar app offered by our site take a look at the MyBankTracker.com iPhone App.
Ask a Question