MasterCard vs. Visa: iPhone App Review
Smartphone use has skyrocketed over the past few years and this trend has changed the way many retailers and consumers relate to money. One big change — consumer convenience is now at the forefront of many financial industry's objectives.
Visa Inc., and MasterCard Inc., have been in constant competition as the two leading credit card companies. Therefore it seems whenever one makes a move, the other is close to follow. This article will evaluate the two smartphone applications offered by each company and highlight the benefits and deterrents to each.
MasterCard vs. Visa App Comparison
As recently as this past December, Visa announced the launch of their iPhone App unoriginally titled, "Visa Mobile Application", just a year after MasterCard had introduced their ATM Hunter app. Although both apps were created to provide convenience to the customer their focus and services differ. MasterCard's app focuses on locating ATMs, the reason the card company is able to offer a more specialized app is because they have multiple applications offered, with different services. Visa has only released their one, rewards-based app thus far.
In terms of cost, both apps are free, therefore it comes down to features. Each app brings different strengths to the table. When looking at availability, the MasterCard app appeals to a broader audience in the sense that it is available for multiple platforms including; the iPhone, iPad, iPod touch, Android and BlackBerry. Visa loses in this category considering it is currently only offered for the iPhone. Although both phones offer an ATM locator, MasterCard has a more extensive search system so you can find the exact ATM you need quickly and efficiently through specifications. On the other hand, Visa's App lets shoppers find merchants that are offering exclusive offers to Visa account holders. This feature will most likely end up saving Visa cardholders much more than the tools offered by MasterCard.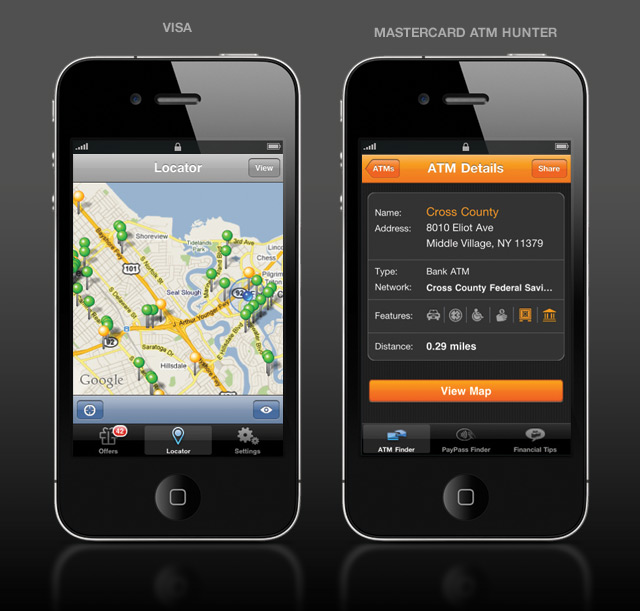 | Feature | Master Card: ATM Hunter App | Visa: Visa Mobile Application |
| --- | --- | --- |
| Availability | iPhone, iPod Touch, iPad, BlackBerry, Android | iPhone Only |
| ATM Locator | Locates ATMs Based On: current location, future location, personal bank ATM, actual location (i.e gas station, grocery store), proximity, ATM Features (i.e Drive through, 24-hr. service, wheelchair accessible, surcharge fees, and deposit sharing) | Located based off which ATMs accept Visa. Displayed on a map. |
| Contactless Payment Locator | Locates merchants who accept PayPass and can filter your search based on what type of retailer you need. | Does not have a PayWave locater feature. |
| Money Management | Smart money spending tips offered.. | Locates merchants offering special rewards to Visa Card users. Filtered by participating stores and type of merchandise. |
| Platforms Requirements | iOS 3.0 or later. | iOS 3.0 or later. |
| Cost | Free | Free |
If convenience is key, MasterCard's app allows for a targeted way of finding ATMs as well as finding merchants that can accommodate their contactless payment system, BUT if you are looking for a smarter way to spend your money, Visa's app helps shoppers locate the best deals in their area. In the end, it largely depends on which card you carry. MasterCard customers can enjoy a larger variety of apps that will meet all their needs, whereas Visa card-holders only have just the one rewards app.
Ask a Question