BB&T Banking for iPad Released in 2011
Many banks have already embraced the ability of mobile banking. Now BB&T is going a step farther and introducing BB&T Banking for iPad. The BB&T iPad app allows you to manage your accounts from your iPad anytime and anywhere. It the app is also available for the Blackberry and iPhone, and iPod Touch.
Like most mobile banking apps, BB&T Bank's iPad app offers the ability to pay bills, check balances and transfer funds. The best part — it's completely free.
BB&T iPad App Features
This app includes all that you would expect in a mobile banking app:
You can manage all aspects of your money by checking your account balances, transferring funds, paying bills, and signing up for paperless statements and account alerts.
Open up a new checking or savings account straight from your device.
The app also helps you get in contact with the actual bank. From your device you can search for the nearest BB&T branch or ATM machine using GPS, or contact customer service directly from your phone.
Security, though, is the most important aspect of this app. The security that BB&T Banking for iPad app employs is the same as the BB&T OnLine Banking and will protect your financial information from unauthorized access with a user ID and password login and a security question to verify your identity the first time you log on with that device.
As an additional measure, they will never transmit your complete account numbers, and your personal information is protected from unauthorized access through their encryption technology. These measures will prevent anyone from accessing your accounts, even if your device is stolen or lost.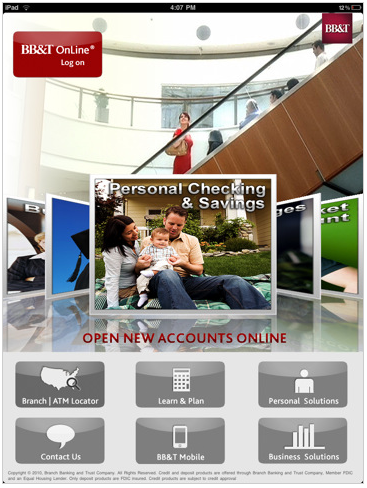 BB&T iPhone App Version 2.0.0
Those of you that have the mobile banking version of this app may have noticed that your older version was not working. This is because as of the New Year, Version 2.0.0 is the only one that works. Some features available for the newer version include the ability to view your available and current balance on the main screen, edit your scheduled bill payments, and the ability to save your username (not your password) on the login screen.
Don't forget that BB&T Mobile Banking offers more than just the app. They also have BB&T Alerts which will send you immediate notifications when important activities occur on your accounts as well as when your online statements are ready. The combination makes mobile banking that much simpler.
Ask a Question