Bank of America Adds New Checking Products to Website: New Deposits Experience
As part of their pilot program to roll out a new selection of tiered checking accounts, Bank of America® has redesigned their website Deposits section in participating states.
The MyBankTracker.com team stumbled across this recent launch that occurred over the weekend. On top of getting a glimpse into the new website, we were also finally able to get a better look at Bank of America®'s new checking accounts.
Near the end of 2010, Bank of America® began testing a new homepage that would reflect a cleaner more scenario-focused direction. To help promote their recent plans to introduce a new assortment of checking products and fees, the bank has also redesigned and launched a more user-friendly 'Deposits' section for customers who reside in Arizona, Georgia or Massachusetts.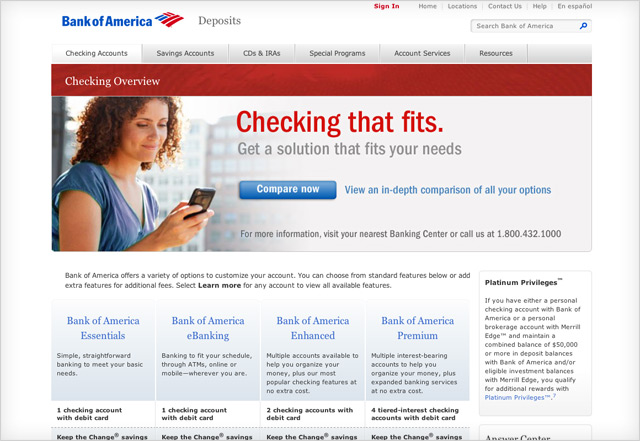 A Cleaner Experience.
After a couple minutes with the new website, its easy to tell that Bank of America® is taking it slow when introducing this new online experience for Deposits – and for good reason. Bank of America® takes their online presence serious, receiving top ranks in online banking excellence and online credit card features and capabilities back in March 2010.
Slightly disconnected from the rest of the site – the main navigation pretty much disappears. The actual deposits layout is much easier to navigate, clearly presenting product information such as rates, fees and requirements.
Build Your Own Checking Account.
One feature that caught our eye in reviewing the new checking products, was how users were presented with the ability to build their new accounts, adding and removing features, much like you would an automobile website. As the user, we are able to see the monthly fee increase as we add services that mattered to us.
For example, when choosing the new Bank of America® Essentials checking account, the standard monthly fee is $9, but making the choice to add Bill Pay quickly upped the monthly fee to $13. You also have the ability to add specialty debit card features (for a fee) and choose your debit card.
Presenting their products this way, Bank of America® has added a type of personalization to choosing an account. It also shows they are taking the steps necessary to ensure all of their online customers are aware of the fees, which the account carries.
A Glimpse of What is to Come.
If you are interested in seeing the new experience, just visit bankofamerica.com and change your state to Arizona, Georgia or Massachusetts. By making this change you also have the opportunity to get a sneak peak at what will soon be offered to Bank of America® customers nationwide
Ask a Question