Financial Planning for Domestic Partnerships
Without federal recognition of their rights, couples in domestic partnerships face unique challenges in planning for the future. In response, some of the nation's banks are incorporating into their businesses tools that can address the issues facing LGBT customers.
Northern Trust Bank announced earlier this month that it would be launching a family practice geared exclusively towards LGBT and non-traditional families.
The new practice will not offer anything substantially different than what Northern Trust already provides other customers, a representative for the bank told MyBankTracker.com, adding that the program had been piloted out of Chicago and would launch in Florida, Southern California and Colorado.
Same-Sex Unions: Separate and Unequal
Because the federal government doesn't recognize same sex unions, those in them don't enjoy many of the same benefits as traditional, opposite-sex unions. For example,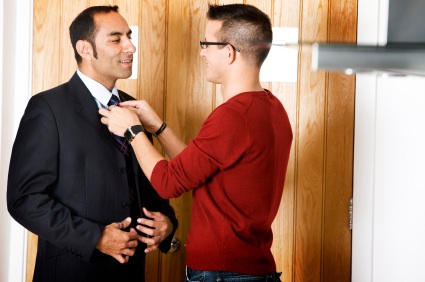 same-sex couples can't transfer property between one another without incurring taxes penalties. Often, same-sex couples cannot cover their spouses medical costs through employer-sponsored insurance plans, or even transfer title of their assets in the event of a death.
As a result, same-sex couples must have legal documents or engage in arduous financial maneuvering to ensure they retain rights over their property, avoid undue taxes and protect their families in times of illness.
MyBankTracker.com decided to find out what types of services some of the largest U.S. banks provided its clients involved in domestic partnerships. Here's what we discovered:
| Banking Institution | Services |
| --- | --- |
| Bank of America | Though Merrill Lynch, Bank of America has an extensive amount of research on the challenges faced by same-sex couples available on its website. You can contact the bank and speak with a financial advisor to dicsuss your particular needs. |
| Wells Fargo | Wells Fargo began a partnership with the College for Financial Planning in 2009, a representative for the bank told MyBankTracker.com. Through the college, Wells Fargo financial planners can take a course and earn an Accredited Domestic Partnership Advisor certification. |
| Citigroup | A representative for the bank told MyBankTracker.com she wasn't aware it did not offer any specific financial planning services for same-sex couples. |
| Chase | "We serve a wide range of customers, including the LGBT community, through our existing debt structure" MyBankTracker.com was told by a Chase representative. |
Recognizing the rights of any minority should be reflected in-house, Bank of America® offers its employees involved in domestic partnerships benefits that include paid child care leave and adoption reimbursement. Here's a link to more information regarding Bank of America®'s LGBT financial planning services, and another to Wells Fargo's resources.
To view a list of the most LGBT-friendly U.S. companies by industry, check out the Human Rights Campaign's 2011 List of the Best Places to Work. The LGBT advocacy group ranked numerous U.S. companies based on their treatment of LGBT employees, and ranked Bank of America® #11, Citibank #12, Chase #16 and Wells Fargo #41. The organization's website also has a wealth of resources for same-sex couples.
How do you think your bank ranks with regards to its financial planning services for couples in domestic partnerships?
Ask a Question