Westfield Bank: Special 4-Year Step-Up, No-Penalty CD – Ohio
Westfield Bank, based in northeast Ohio, is offering a versatile 4-Year step-up, no-penalty combo CD that is paying 2.00% APY.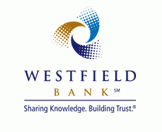 Bump-up and no-penalty CDs make rare appearances on bank product lists. It is even more uncommon, probably unheard of, for a bank to offer both step-up and penalty-free withdrawal options in a single CD.
Westfield Bank did just that by offering an extraordinary CD with the options of a one-time step-up to a higher interest rate and a one-time no-penalty early withdrawal of up to 25% of the balance.
Incomparable Step-Up/No-Penalty CD
The popular nationwide online bank Ally is known for offering attractive rates on special CD products such as their No Penalty CD and Raise Your Rate CD. But, Ally hasn't gone as far as to combine these flexible features, which Westfield Bank has done.
Although the 2.00% APY for a 4-Year term CD is not the best CD rate available, it is competitive enough that it's worth considering due to its versatile options. Because there are no other CD products on the market that's available for equal comparison, take a look at Westfield Bank's special 4-Year CD stacked up next to Ally's flexible CDs.
| Bank | Product | APY (as of 1/26/11) | Minimum opening deposit |
| --- | --- | --- | --- |
| Westfield Bank | 4-Year Step-Up No-Penalty CD | 2.00% | $5,000 |
| Ally | 4-Year CD | 2.05% | $0 |
| Ally | 2-Year Raise Your Rate CD | 1.52% | $0 |
| Ally | 11-Month No-Penalty CD | 1.20% | $0 |
Rules on Activating the CD Options
The step-up, no-penalty CD offer a great sense of financial security while being very lenient compared to the terms of traditional CDs. Customers who are determined to save but fear a financial disaster can find much comfort in this CD.
With the step-up option, you can contact Westfield Bank and request a interest rate increase if the APY for the CD has gone up over the course of the CD term.
The 4-Year CD special allows one penalty-free early withdrawal for up to 25% of the balance. If you want to withdraw any more than that amount, you will incur a penalty charge worth X months of interest.
Accounts at Westfield Bank are limited to residents in the state of Ohio. To open an account, customers must contact a local branch. Afterwards, customers can manage their accounts through Westfield Bank's online interface.
To browse the many other CDs currently available, visit the CD rates page.
Ask a Question