Credit Card Swipe for iPhone Technology: A Comparison
Thanks to emerging mobile phone swipe-technology, you don't have to run a big business to accept credit cards, but you do need an iPhone. With high interchange fees and expensive equipment, accepting credit cards can eat up profits. Check out our comparison of the cost-reducing technology.
We will look at three iPhone apps that allow you to securely process and accept credit card payments: Intuit GoPayment, Square, and Verifone PAYware Mobile. To begin, all three services require you to download their app and create an account with them. None of them require you to buy the physical card reader, and most offer it for free after signup. This app is very convenient and cost effective and cuts down on equipment fees since all you really need is your iPhone.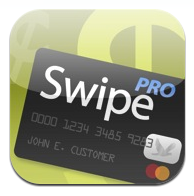 While this app is available to everyone, it can tremendously benefit small businesses who may not want to (or may not be able to) spend what the big banks are charging to process a credit card payment. It also benefits those businesses which provide services on site like tow trucks or tree removers. As this technology continues to become more mainstream you will never miss a sale because you will be able to offer your customers secure credit card transactions.
How they work
Using these apps cannot be simpler. First, log into your account on your mobile phone. Next, enter the charge amount into the appropriate field. To receive payments, you can either key in the information or swipe the card, which offers lower rates and puts more money in your pocket. Lastly, accept the payments with a tap of your finger and receive confirmation within seconds. Additionally, you can email or text a receipt to your customer for his records.
UPDATE: Chart updated to reflect new Square pricing model. The $0.15 transaction fee on swipe transactions has been eliminated but remains on PIN-entry transactions.
| Fee Type | Intuit High / Low-Volume GoPayment | mophie / GoPayment Complete Solution | Verifone Payware | Verifone Payware (w/ 2 year contract) | Square |
| --- | --- | --- | --- | --- | --- |
| Mobile Card Reader | FREE / FREE | $179.95 | $139.00 | FREE | FREE |
| Set Up Fee | FREE / FREE | FREE | $29.95 | FREE | FREE |
| Monthly Fee | $12.95 / NONE | $12.95 | $9.95 | $10.00 | NONE |
| Transaction Fee | $0.30 / $0.15 | $0.30 | FREE | $0.20 | $0.15 (w/ pin entry) pin |
| Card Present (Swiped) Rate | 1.70% / 2.70% | 1.70% | 1.65% | 1.65% | 2.75% |
| Card Not Present (Key Enter) Rate | 2.70% / 3.70% | 2.70% | 2.20% | 2.20% | 3.50% |
| Monthly Minimum | NONE / NONE | NONE | $12.50 | NONE | NONE |
| Cancellation Fee | NONE / NONE | NONE | NONE | NONE | NONE |
Right now, if you sign up for an Intuit Merchant Account and are approved, Intuit will send you a free credit card reader in about four weeks that plugs straight into your headphone jack. This free card swiper, from ROAM data, works with both the High-Volume and Low-Volume plans and works with more than 40 Android, Blackberry and Apple iOS devices. To choose the correct plan, Intuit recommends High-Volume if you process more than $1,000 per month, and Low-Volume if you process less than that. The GoPayment Complete Credit Card Solution is not free and has the same plan as the GoPayment High-Volume plan. This card reader plugs into the bottom of your iPhone.
The Square is just that: a small white square with a metal piece that plugs straight into your iPhone's headphone jack. Like Intuit, Square will also send you their free card reader in the mail once you set up your account, but Square's card reader is much smaller and, unlike Intuit, the app requires the customer's signature, which he can simply write with his finger straight onto the screen of the iPhone.
Last is Verifone PAYware Mobile's Gateway. This portable sleeve resembles a phone cradle and hooks straight up to the back of your iPhone. Like the Square, after swiping the card and securely processing the payment, the customer must provide a signature onto the screen of the iPhone.
Don't throw away your Blackberry just yet…
While these apps are all featured in Apple mobile app stores for the iPhone, iPad and iPod Touch, other phones including Blackberry, Android and Nokia are also compatible with some of these efficient, time- and money-saving apps. Verifone PAYware's device is only available for Apple products at the moment, but they plan on bringing this technology to other mobile phones in the near future. Square can be plugged into an Apple or Android phone, but Intuit's card reader extends its usage to three different Blackberrys, and the app itself (without the card reader) is available to a huge number of smartphones including HTC and Motorola. And, you can purchase a Bluetooth credit card reader for a discount if you are approved for an account, or for full retail price at $144.95. With all these affordable options you will soon be making more money, conveniently and securely.
Have you used any of these apps or card readers? Tell us what you think.
Ask a Question