Banking Technology We Did Not Have 10 Years Ago
Speculation during the dot-com bubble 10 years ago couldn't foresee the kind of innovation and adaptation today. Technology today has changed the way we operate in every aspect of life, this article takes a look at the world of banking technology of the past ten years.
Ten years ago, mobile phones couldn't turn on our cars, and "apps" were not part of the social lingo. In the current age of constant tech evolution, new gadgets and technology have transformed the way we bank—making the experience quicker and more convenient.
Smartphones
In 2001, although available to many banking customers, online banking was in its early stages of adoption. Mobile phones served the primary purpose of voice communication and the keys resembled the format of a touch-tone phone.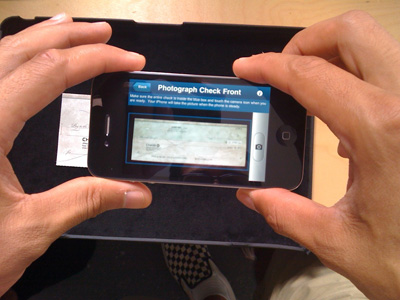 Today, we can access our bank accounts at any location with a cellular signal. Smartphones have cannibalized the mobile phone market and every other phone has either a physical or touchscreen QWERTY keyboard. With the explosion of iPhone and Android device users, smartphones opened a new portal for banks to cater to their customers.
Many banks have their own applications that allows their customers to perform various banking transactions with their smartphones. It has become easy to check account balances, pay bills, and transfer money with a few presses on a screen.
Remote and Mobile Deposit
Even until today, the first instinct for someone who receives a paper check is to head to a physical branch location and deposit the money through a teller or an ATM. The hassle of making the trip to the bank is expected.
Fortunately, innovation is making check deposits less troublesome. Armed with a smartphone, customers at certain banks can deposit a check remotely. Apps from USAA, Chase, State Farm Bank, and PayPal (not a really a bank) offer this feature where customers take photographs of checks with their phones and submit them as mobile deposits – no need to visit a local branch or ATM.
Remote check deposit will become mainstream as more and more banks begin offering this feature. Currently, Bank of America is testing mobile deposits for its smartphone app and US Bank is testing remote deposits through a computer and scanner.
In the future, mobile check deposits will be readily available through any device that can take an image of a paper check.
Near-field Communication (NFC)
Soon, "swiping" may no longer be the term associated with payment cards. Instead, we will be "waving" – and not necessarily be waving our cards.
Near-field communications became available thanks to RFID chips in our credit and debit cards. Visa's payWave, MasterCard's PayPass, Discover's Zip, and American Express's ExpressPay are all the forms of contactless NFC technology available to consumers. Rather than swiping a credit card, cardholders can wave their cards in front of a contactless card reader and the transaction is processed.
To further push the banking tech innovation, various companies are competing to replace credit and debit cards with smartphones. Mobile payments will be made by saving our card information on our smartphones and using the smartphone to make a purchase – cutting out the need to carry plastic. Top players in the race to launch mobile payment systems include Google, Apple, Visa, and MasterCard.
Interactive Credit Cards
The first plastic credit cards were introduced by Diners Club and American Express as charge cards in the 1950s. As the 1970s rolled around, the magnetic strip became a standard in credit cards to basically created the payment cards we see in our wallets today. Not much has changed except for the implanted RFID chips that allow for contactless payments.
Now in its testing stages, interactive credit cards are set to makes its debut. Citibank has begun experimenting payment card technologies from Dynamics Inc., a company that developed payment cards with built-in account and security features. For example, the "MultiAccount" card allows the cardholder to select which account to charge a purchase. The "Hidden" card hides a portion of the card number unless it is unlocked with a security code known only to the cardholder.
Ask a Question