Chicago Marathon 2011 Registration Opens for Participants
On your marks, get set, go…register for the Chicago Marathon. If you are an avid runner, or know of one then you know that every race has a registration period and as of midnight (CST) today registration has opened up for the 34th annual Bank of America® Chicago Marathon.
The marathon is set to take place on Sunday, October 9, 2011 in Grant Park, Chicago, Illinois starting at 7:30 am. According to an earlier press release, the Bank of America® Chicago Marathon "is one of the most prestigious marathons in the world, and is one of the five 'World Marathon Majors'". The other five majors include; the Boston Marathon, London Marathon, New York Marathon and Berlin.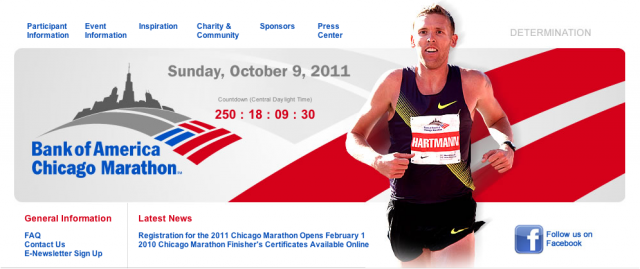 It attracts nearly 45,000 participants annually with 1.7 million spectators. The race provides more than just bragging rights, it has been able to raise more than $11.5 million in charitable donations, at the same time generating nearly $150 million for the economies of the host cities. This year, two dollars of every entry, along with a dollar-by-dollar match from the Bank of America® will go towards Chicago-based running and youth initiatives.
Those interested in participating can visit www.chicagomarathon.com to register. The cost for participating in the Chicago Marathon is $140, unless you are not a resident of the United States, then the cost goes up for $170. If you are on the border of your decision take note that the registration period does have a limit. Once the participant capacity of 45,000 is reached, they will close the registration allowance. The Bank of America® Chicago Marathon site predicts that capacity will be reached in about 51 days.
Ask a Question