Most Valuable Bank, WikiLeaks and More: Bank News Wrap Up
The severe weather put most of the country on pause as many Americans couldn't even get out of their front door let alone get to work. But news never stops, and nor do we. Here is a recap of this week's biggest headlines.
Bank of America® Becomes Most Valuable Banking Brand
Besides bragging rights, Bank of America® has also proved to the world that it is the most valuable brand. The bank, which increased its brand value by 15%, boosted its strength by protecting consumersin support of the new legislation, participating in philanthropic initiatives (i.e The Bank of America® Chicago Marathon) and through its merger with Merrill Lynch.
To see a complete list of the Top Ten Bank Brands, their values and ranking including last year's, click here.
Julian Assange Watches Banks Squirm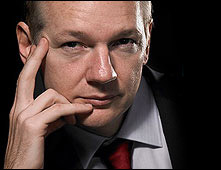 Wikileaks Julian Assange has turned into the big bank bully and he continued his torment on "60 Minutes" this past Sunday. Although buzz has died down from last month. Assange is assuring people that the "megaleak" is coming. Whether he is bluffing or not, banks are still quite uncomfortable. There is no conclusive information on which bank it is, when the information will be released or even what it is regarding.
Watch: Julian Assange 60 minutes Interview Video
KeyBank Joins in the Checking Changes
KeyBank is the latest bank to change their checking fee structure. According to an email from the bank, starting June 1, there will be a $5 monthly fee and changes to the inactivity fees on checking and savings account. MyBankTracker.com put together tables in order to better help KeyBank customers prepare for the changes as well as understand how to avoid the monthly fee.
See the Changes: New KeyBank Checking Fees 2011
In other news…
Earlier today January's unemployment statistics came in showing that the unemployment rate showed improvement, dropping by .4% to 9.0%. The job creation on the other hand was not as promising with a meek 36,000 jobs created.
Technological leaps and bounds continue to make headlines as banks add features and tools to make the consumer banking experience an efficient and convenient one. This week TD Bank added BlackBerry banking devices to their list of smartphones that carry their mobile banking app.
READ: How Banking Technology has Developed over the Past Ten Years
Ask a Question