Customers Bank: Money Market and CD Rates Promotion – New Jersey, Pennsylvania
Customers Bank is running a special money market and CD rates promotion with great yields but it's limited to customers in New Jersey and Pennsylvania.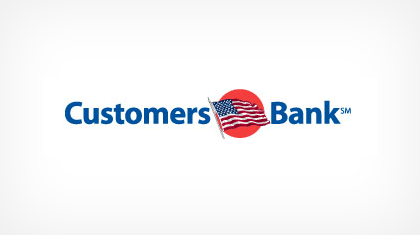 Customers Bank is offering special rates on three of their products: an 11-Month CD (1.50% APY), a 24-Month CD (1.75% APY), and their money market account (1.50% APY).
Unlike many bank promotions that makes products sound better than they actually are, the rates on these three products are indeed extraordinary.
Customers Bank Money Market and CD Rates Special
The current special from Customers Bank are:
| Product | APY (as of 2/3/11) | Minimum balance to earn APY |
| --- | --- | --- |
| 11-Month CD | 1.50% | $500 |
| 24-Month CD | 1.75% | $500 |
| Money Market Account | 1.50% | $10,000 |
On MyBankTracker, the leading 12-Month and 24-Month CD rates are offered by Bank of Internet at 1.36% APY and 1.60% APY, respectively. The 11-Month CD from Customers Bank tops the 12-Month leader and almost reaches the payout of the 24-Month CD. The leading money market account from Amtrust Direct is paying 1.25% APY, 0.25% less than the promotional money market rate from Customers Bank.
Just a note: the standard rates for traditional 12-Month and 24 Month CD are paying only 0.65% APY and 1.00% APY, respectively.
A worthy mention from Customers Bank that isn't part of the promotion is its 60-Month CD which is paying 3.00% APY. The leading 60-Month CD on MyBankTracker is offered by EverBank at 2.61% APY.
Accounts at Customers Bank are only available to residents of the states of New Jersey and Pennsylvania. You can open an account online or by visiting one of their local branches.
If you would like to find and compare other CD and money market products available, visit the CD rates and money market rates page.
Ask a Question