Ally Bank Survey: What Do You Love Most in a Bank?
In commemoration of Valentine's Day, Ally Bank has decided to celebrate with the release of a survey that asked what customers love most in a bank. Respondents were most affectionate towards bank security and less toward interest rates.
"What Do You Love Most in a Bank?"
Ally Bank conducted their survey via telephone from Dec. 10 to 13, 2010 with a sample of 1,004 adults (50% men and 50% women) ages 18 years and older and living in private households throughout the continental United States.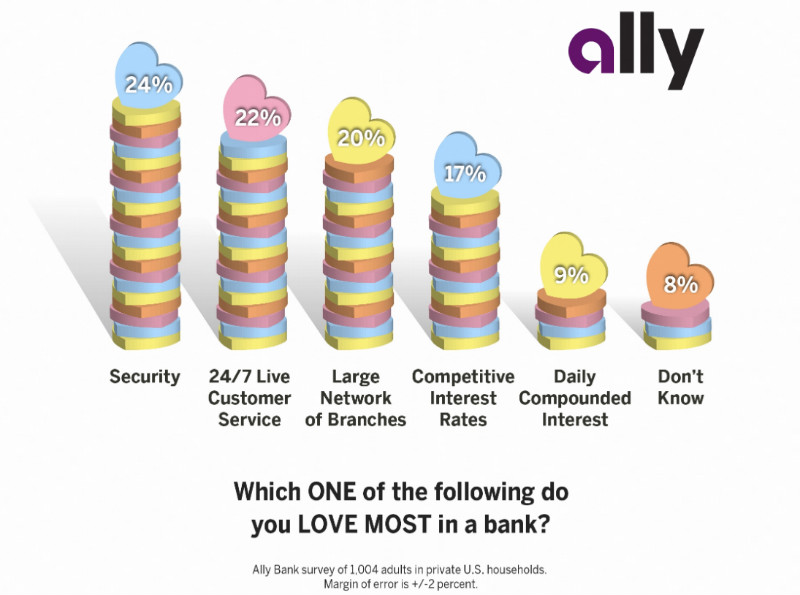 Other interesting findings were reported:
Overall: 24% of respondents rank security as the option they love most in a bank and 22% love 24/7 live customer service most.
Age: Americans 45 and older appreciate security most, while those in the 35 to 44-year-old age bracket identified most with 24/7 live customer service.
Income: 26% of respondents making more than $100,000 per year love competitive interest rates most, while 24/7 live customers service tops the list for those making $35,000 or less per year.
Household size: Those with three or more people in their house said they loved the 24/7 customer service banking feature best (27%), compared to those with 2 or 1 (16% and 22%, respectively).
Analyzing the Findings
Due to the recent recession and economic turmoils, the banking industry has inherited a tarnished reputation. It has become increasingly difficult to love banks as they continually revamp fee structures to recoup lost revenue as a result of new federal rules. Therefore, it was surprising not to see low fees as an attractive trait in a bank.
Knowing that your money is safe is understandable as financial institutions are failing left and right while criminals are becoming increasingly technologically advanced.
The Federal Reserve maintained its stance in keeping interest at historic lows, contributing super-low interest rates on deposit accounts. Because returns are generally disappointing, customers are placing more emphasis on other aspects of banking.
Customer sentiment may improve in other areas of banking as the U.S. embarks on a gradual economic recovery. If and when interest rates go up, customers could find competitive interest rates to be the most appealing bank trait.
What do you do you love most about your bank(s)? Express your affection in the comments below or by writing a bank review.
Ask a Question